All of a sudden University of Toledo defensive tackle Nate Childress finds himself as one of the most experienced players returning on the defensive line.
As Childress transitions to an upperclassman this season, a larger role awaits the 6-foot-3, 292-pound junior from Rossford.
"I'm just stepping up in drills, and doing them the correct way, and not messing up as much as when I was younger," Childress said. "I know how these drills go, and I can teach the young kids that are behind me and make sure they are ready to take over when I'm gone.
"It's great being a leader, and knowing what to expect, and giving back to the younger guys that are coming in."
RELATED CONTENT: University of Toledo spring game
WATCH: Nate Childress is expected to step up his role as leader
As a sophomore last season, Childress started in 13 of the Rockets' 14 games and had 24 tackles, one sack, a fumble recovery, and two blocked field goals.
Toledo defensive coordinator and defensive line coach Brian George said the coaching staff is really pushing Childress to take another step in his development this season.
"His first year starting last season, you could see the development and the growth of him as a player and as a person," George said. "This year his role is going to be different than what it was last year. We've challenged Nate to improve as a player and improve on the fine details of what he is doing, and we're really pushing him to take the next step as a player. We want him to go from just being a starter to being a guy that does more than that — go from being good to being great."
Childress said last season he played the role of a run-stopper and would like to become more explosive as a pass rusher. His position coach wants to see him go from someone who is steady to a playmaking force.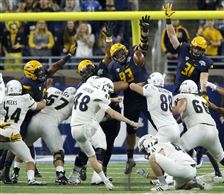 Toledo's Nate Childress (93) blocks a field goal attempt by Akron's Nick Gasser during the MAC Championship game in December.
Blade/Lori King Enlarge
"We've really worked with him on some of the little things that have held him back in that regard," George said. "We want him to go from just being in the gap he's supposed to be in to being a guy that can take advantage of someone who is out of position on the offensive line and be able to get into the backfield to make a play. That's a step he needs to take to fill the role we need him to fill."
At Rossford, Childress was a unique three-sport athlete. He starred on the Rossford football team, played in the post on the basketball team, and was a regional champion in the shot put and an all-Northern Buckeye Conference performer in the discus during track and field season.
On top of being one of the area's top performers in the throwing events, Childress also anchored the Bulldogs' 400-meter relay team.
Childress showed off some of that athletic versatility last season, playing a big part on special teams. Childress blocked two field goals last season, including one in the Mid-American Conference championship game against Akron.
"It was probably one of the best moments of my life, and hopefully I can keep developing plays like that," Childress said of his blocked kick in the MAC title game.
George said Childress' work on special teams has played a big role in getting him playing time on defense.
"Nate's always has been a great contributor for us on special teams with his field goal blocks, and he is also a starter on our punt team and did a great job for us there," George said. "It is something that we preach to everyone. Before you become a starter on defense, you better be a great special teams player."
The defensive line lost key contributors from last season, including defensive tackle Marquise Moore and defensive ends Zach Quinn and Ola Adeniyi. Childress hopes he can fill the leadership void with those three not in the mix anymore.
"At first it was a little rough trying to fill that leader spot that we lost with Marquise and Zach Quinn and Ola," Childress said. "I feel like as the spring has gone on, I have developed my leadership role better. I look forward to leading this group of guys out on the field this year."
George said his staff has worked with Childress during the offseason in trying to make his transition to being a leader successful.
"We spent a lot of time this offseason talking to Nate, and he's done a good job taking some of the younger players and working with them," George said. "Last year he was one of the younger guys and was a new starter in that group. This year he is one of the oldest guys in that group with the most experience in terms of playing time. Him being able to step into that role is going to be huge for us coming into next year."
Contact Brian Buckey at bbuckey@theblade.com, 419-724-6110, or on Twitter @BrianBuckey.
Guidelines: Please keep your comments smart and civil. Don't attack other readers personally, and keep your language decent. Comments that violate these standards, or our privacy statement or visitor's agreement, are subject to being removed and commenters are subject to being banned. To post comments, you must be a registered user on toledoblade.com. To find out more, please visit the FAQ.