Harbaugh won't watch Michigan's Amazon series
5/16/2018
Is a second season of All or Nothing, the Amazon Prime documentary featuring Michigan football, in the works?
Jim Harbaugh isn't ruling it out. After all, a crew was in Paris tailing the team.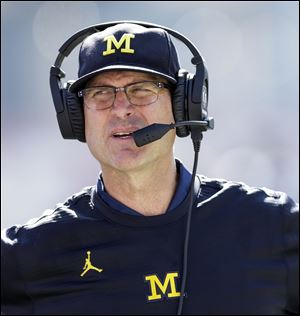 Michigan head coach Jim Harbaugh
Just don't expect Harbaugh to tune in if another season is produced. The Michigan coach can't bear watching himself.
"I don't like even hearing my own voice," Harbaugh said. "Some of those losses, I don't think I could watch them again."
Despite not viewing the eight-part, five-hour and 35-minute epic, which Michigan was paid a cool $2.25 million for, Harbaugh did say it's received rave reviews from everyone he's spoken with. The cameras, seemingly present every second of the season, were not obtrusive, according to Harbaugh, who added that he wanted the final product to be as real as possible.
"I didn't want to be that guy watching it and editing it," Harbaugh said. "I just didn't think any of our coaches or players would do anything (unbecoming). I trust them."
Contact Kyle Rowland at krowland@theblade.com, 419-724-6110 or on Twitter @KyleRowland.