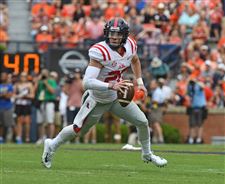 Michigan quarterback Shea Patterson was selected by the Texas Rangers in the 39th round of the MLB draft.
ASSOCIATED PRESS Enlarge
ANN ARBOR — Shea Patterson heard his name called in the draft Wednesday.
Not the NFL draft — the 39th round of the Major League Baseball draft.
Patterson, who hasn't played baseball since his junior year at Calvary Baptist High School in Shreveport, La., was taken by the Texas Rangers with the 1,169th pick.
But don't worry Michigan fans, the quarterback isn't going anywhere. He has no plans to pursue professional baseball.
"It is an honor, and he is very thankful," Patterson's father, Sean, told The Blade. "Not too many athletes get these opportunities. We spent a lot of time traveling the country and internationally playing baseball. Getting drafted in any professional sport is an honor."
Patterson could hear his name again in one year, albeit much earlier and In a different sport. The popular NFL draft website Walter Football currently projects the Toledo native to go No. 1 overall.
Contact Kyle Rowland at krowland@theblade.com, 419-724-6110 or on Twitter @KyleRowland.
Guidelines: Please keep your comments smart and civil. Don't attack other readers personally, and keep your language decent. Comments that violate these standards, or our privacy statement or visitor's agreement, are subject to being removed and commenters are subject to being banned. To post comments, you must be a registered user on toledoblade.com. To find out more, please visit the FAQ.