Nearly a dozen years ago, I made the purchase of a lifetime: a 42-inch Panasonic plasma TV for $2,200, which in today's world would be approximately $2,850.
Last week that lifetime investment came to an unceremonious and unexpected end when my wife informed me that our beloved and dependable TV — our gateway into the world of high definition (even though the set's 1080i/720p picture wasn't true HD) — was dead.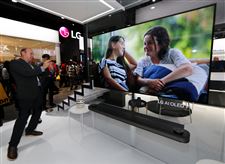 CES 2018 attendees admire the "wallpaper" design and picture quality of the LG Signature OLED 4K HDR Smart TV during 2018 International CES Tuesday in Las Vegas.
ASSOCIATED PRESS Enlarge
I suppose I should be happy that my HDTV outlived its technology and its maker; plasma sets lost the living room war to LCD flatscreens and by 2014 were no longer being made, while Panasonic, which was all-in on plasma technology, no longer sells TVs in the United States.
Still, my plasma set joined my family only a year before our daughter and had been part of many wonderful moments. Before the plasma carcass was carted away to recycling heaven, I actually asked my wife, "What's your fondest memory of the TV?"
If middle age has taught me anything, it's that everything has an expiration date and most of it is replaceable. So before my mournful tears had dried, I was busy researching our next big TV purchase.
Consumer electronics can seemingly make giant leaps in ability overnight, so imagine the technology gulf between today's TVs and the 2006 models. That cutting-edge high-definition revolution of the mid-2000s more than doubled the resolution of those old CRT (tube) TVs from 480p or even less to 1080p. That's now the de facto standard for TVs. Ultra high-definition (UHD) TVs, aka 4K, which doubles a high-definition TV's resolution from 1080p to 2160p, is the new next thing.
Similar to the early days of 1080p, UHD sets, when first introduced to the market in 2012, were on the pricey side. Not anymore.
For example: I bought a 49-inch UHD (2160p) Smart Samsung LED with HDR (high dynamic range, yet another new tech standard and acronym you should know as it essentially helps a UHD look even better) on sale for $600. (In 2006 dollars, it would be even less; about $480.)
A mid-range set at a reasonable price, the UN49MU7000FXZA has its weaknesses; a middling brightness, for example, hampers the HDR's ability to coax a rich palette of colors from UHD. But it does everything either well enough or even better than most comparably priced TVs that you don't feel like you're lacking anything unless you want to spend a lot more money for those features. I didn't.
And the picture, with a few tweaks, has continued to impress me. The TV's built-in digital tuner delivers a crisp 1080p image the TV then upscales, ever so slightly, as it does with other cable and DVD programming. Blu-rays look spectacular as does the limited 4K content available on content providers such as Netflix, Amazon Prime, and YouTube.
But your experience with this model may vary. One's connection to a TV is highly personal, as I have discovered. There's rarely a right and wrong when buying a new TV, rather what "feels" and "looks" right in that space (living room, bedroom, den, etc.) to those who will use it.
Just consider what's important to you, for now and for the future. If, for example, you only watch movies on that "it still works great" VCR, then an ultra high definition is not necessary to make that never-returned movie from Blockbuster look better. The beautifying ability of 4K can only go so far.
But for most I would suggest upgrading to the next level of high-definition if/when you are in the market for a new TV. Yes, there is such a thing as 8K — essentially double that of 4K — but its improved resolution is mostly beyond that of human perception.
So, for now at least, ultra high-def/4K with HDR is future proof.
Just know that whatever TV you buy is not a lifetime purchase ... not even a 42-inch Panasonic plasma you once thought would be buried next to you.
Contact Kirk Baird at kbaird@theblade.com or 419-724-6734.
Guidelines: Please keep your comments smart and civil. Don't attack other readers personally, and keep your language decent. Comments that violate these standards, or our privacy statement or visitor's agreement, are subject to being removed and commenters are subject to being banned. To post comments, you must be a registered user on toledoblade.com. To find out more, please visit the FAQ.