A Toledo man who fought with and injured a Toledo police officer was sentenced Tuesday to five years in prison.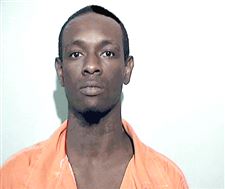 Raymont Moore
Raymont Moore, 28, of the 800 block of Woodland Avenue pleaded guilty Dec. 13 in Lucas County Common Pleas Court to attempted felonious assault for the Aug. 22 incident in which Officer Thomas Killen was injured. Judge Myron Duhart cited Moore's lengthy criminal record, lack of remorse, and the seriousness of the crime in imposing the prison term.
Moore was in a parked car with another individual in the 2400 block of West Central Avenue when police approached them and he fled. Police chased after him, grabbed him, and he swung an elbow at Officer Killen, causing a torn muscle in the officer's chest.
Guidelines: Please keep your comments smart and civil. Don't attack other readers personally, and keep your language decent. Comments that violate these standards, or our privacy statement or visitor's agreement, are subject to being removed and commenters are subject to being banned. To post comments, you must be a registered user on toledoblade.com. To find out more, please visit the FAQ.