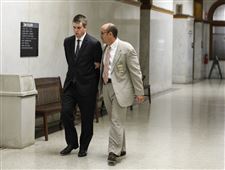 Former Springfield High School math teacher Kyle McKinch, left, is led from the courtroom by Court Deputy Roger Kerner after he was sentenced by Judge Ruth Ann Franks for sexual battery and unlawful sexual conduct with a minor.
The Blade/Andy Morrison
Enlarge | Buy This Image
Saying that his punishment fit his crime, Lucas County Common Pleas Judge Lindsay Navarre denied early release from prison for a former Springfield High School teacher who had sex with a student.
Kyle McKinch, 29, of Sylvania was sentenced June 20 by now-retired Judge Ruth Ann Franks to three years in prison and ordered to register as a sex offender with the county sheriff every 90 days for the rest of his life. He pleaded guilty to sexual battery and three counts of unlawful sexual conduct with a minor after admitting he had sex with a 15-year-old girl who had been a student in his math class.
Judge Navarre said releasing McKinch after he has spent less than seven months in prison "would demean the seriousness of the offender's conduct and its impact upon the victim."
She noted the mental injury suffered by the victim because of her age and the fact that McKinch held a position of trust.
"The court finds that his actions constituted an egregious abuse of that power and authority," Judge Navarre wrote, adding that his "professional occupation not only obliged [him] to prevent such conduct, but helped to facilitate his unlawful and untoward relationship with the minor victim."
Patricia Wardrop, an assistant county prosecutor, opposed McKinch's motion for judicial release.
"Because of this defendant's choices and actions, and despite the victim's protestations to the contrary, her life has been irrevocably altered in ways that may not make themselves known for years to come," Ms. Wardrop wrote in her response to his motion.
Defense attorney Jane Roman noted that the victim did not want McKinch to serve a lengthy prison term and was not opposed to him getting out early.
She said McKinch's family has been supportive of him and was "very disappointed" with the judge's ruling. She said McKinch has been a model inmate and was incarcerated when his wife recently gave birth to their second child.
"He has done everything that he can possibly do," Ms. Roman said. "His security level has been reduced to the lowest. He has done 35 hours of volunteer service. He's engaged in every program he possibly can."
McKinch, who was teaching at Central Catholic High School last year when he was charged with the crimes, forfeited his teaching license because of the felony convictions.
Contact Jennifer Feehan at jfeehan@theblade.com or 419-213-2134.
Guidelines: Please keep your comments smart and civil. Don't attack other readers personally, and keep your language decent. Comments that violate these standards, or our privacy statement or visitor's agreement, are subject to being removed and commenters are subject to being banned. To post comments, you must be a registered user on toledoblade.com. To find out more, please visit the FAQ.