Former nonprofit chief charged with stealing from agency
2/13/2018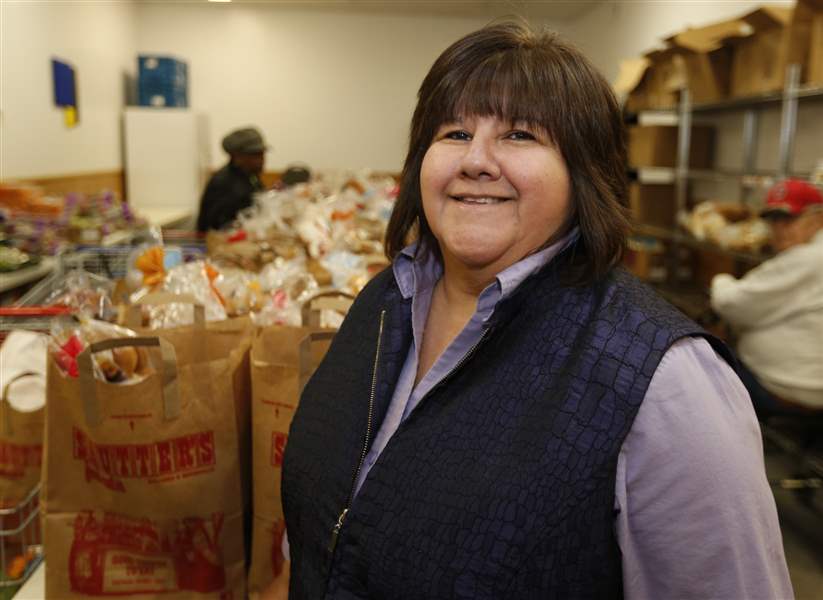 Anita Sanchez-Serda in 2014.
The Blade
Buy This Image
The former leader of Sylvania Area Family Services has been charged with stealing from the nonprofit agency.
Anita Sanchez-Serda, 55, of Perrysburg was charged last week in Sylvania Municipal Court with fifth-degree felony theft for stealing $1,633.84 worth of gift cards while executive director of SAFS. According to police reports, she purchased items for personal use with Meijer gift cards donated to the nonprofit.
Sylvania Township police learned of the matter in December because a sergeant serves on the board of the organization, which provides social assistance and food to Sylvania families in need. Leaders of SAFS originally declined to press charges after she had admitted to theft, but they reversed course after a full board meeting.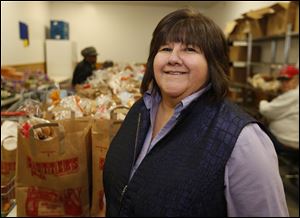 Anita Sanchez-Serda in 2014.
Board President Jennifer Swiech, vice president and chief compliance officer at Genoa Bank, said in a statement that SAFS internal controls led to a prompt discovery of the funds' misuse.
"Sylvania Area Family Services relies upon donor funds to provide many valuable services to the community," she said in a prepared statement. "We take this situation very seriously, and hope we can maintain the trust and confidence of our generous donors so they can continue to support the organization in the future."
Ms. Sanchez-Serda was arraigned Friday in Sylvania Municipal Court and released on her own recognizance. Her next court hearing is scheduled for March 9.
Attempts to reach Ms. Sanchez-Serda were unsuccessful. Her attorney, Jerome Phillips, had not received any discovery regarding the charge and had no comment on the case.
She was hired on Nov. 13, 2014, to replace former director Jason Robertson.
The organization's administrative assistant, who along with Ms. Sanchez-Serda was the only person with access to a safe where the cards were kept, had been suspicious about gift card usage in 2017 and began logging gift card numbers to track them. After a coworker had asked if she wanted a card given to her by Ms. Sanchez-Serda, she checked the card's activity and found it was used to pay for items not authorized by the organization, according to police reports.
The employee then checked a safe and found four Meijer gift cards worth $2,000 missing. Ms. Sanchez-Serda denied to her having taken the cards, according to police reports.
A few days later, Ms. Sanchez-Serda told the employee to check again for the cards and found a missing card with three unauthorized charges. In November, the employee did an inventory of gift cards and found a $200 card missing, then told Ms. Sanchez-Serda she did not want to be responsible for the cards any longer. Ms. Sanchez-Serda soon after claimed she had found the missing card, the employee told police.
The employee then reported the missing gift cards to the board treasurer.
Officers attended a meeting that afternoon between SAFS board members and Ms. Sanchez-Serda, where she was interviewed and initially denied any theft. After being told police would ask Meijer for video footage of transactions related to the gift cards' use, she admitted to using a card to buy diapers and food for her family, according to police.
According to police reports, Deputy Chief Jim Rettig was told Dec. 1 by then-Chief Robert Boehme and Sgt. Justin Music that SAFS board members believed Ms. Sanchez-Serda was stealing funds from the foundation.
She initially denied the thefts, but she later admitted "she had been having financial difficulties over the past year and that she had taken gift cards from the safe and made purchases for personal items in August or September," according to the report.
She was fired from the foundation that evening. Police attempted to schedule an interview with her in late January and early February, but Ms. Sanchez-Serda did not return messages to schedule an interview.
This is not the first time Ms. Sanchez-Serda's role in a nonprofit ended in controversy.
She was a co-founder of the Perrysburg Heights Community Association but was removed from its board in 2013. At the time, the board's acting president, Steven Kramer, said she was voted off the board "because of something she did," but he declined to elaborate.
Mr. Kramer did not return a phone call Monday. Current board President Paul Belazis said he was not on the board at the time and was not personally aware of the circumstances surrounding Ms. Sanchez-Serda's ouster.
Contact Nolan Rosenkrans at nrosenkrans@theblade.com, 419-724-6086, or on Twitter @NolanRosenkrans.