An East Toledo man charged in the slayings of two of his neighbors some four months apart took the witness stand Tuesday, denying any involvement with the murders.
"I didn't do it. I didn't do it," Mark Alan Lowery told the jury in Lucas County Common Pleas Court under aggressive questioning by Mark Herr, an assistant county prosecutor.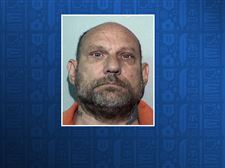 Mark Alan Lowery
Lowery, 56, of the 2500 block of Consaul Street is charged with aggravated murder and murder in the July 10, 2015, slaying of Alfred Delong, 77, and in the Nov. 9, 2015, death of Taylor Meek, 22.
He also is charged with two counts of aggravated robbery and single counts of aggravated burglary, receiving stolen property, and aggravated arson.
Lowery testified that he would wave to Mr. Delong and occasionally wash his car. He repeatedly denied ever being in the victim's trailer, which was within view of Lowery's mother's trailer where he lived.
"He was a nice old man," Lowery said. "I did work for him."
He also told the jury that he considered Mr. Meek a friend and said he was in Mr. Meek's apartment doing work into the early morning hours of Nov. 9. He maintained that he did not kill Mr. Meek nor did he set fire to his apartment.
Prosecutors say property taken from Mr. Delong and Mr. Meek as well as property belonging to Lowery was found in the woods nearby.
Lowery admitted he'd been a longtime drug addict but said he simply went to his room and smoked crack at night.
"I hurt nobody but myself," he said.
The jury is expected to hear closing arguments and begin deliberations Wednesday.
Guidelines: Please keep your comments smart and civil. Don't attack other readers personally, and keep your language decent. Comments that violate these standards, or our privacy statement or visitor's agreement, are subject to being removed and commenters are subject to being banned. To post comments, you must be a registered user on toledoblade.com. To find out more, please visit the FAQ.