Editor's note: This story has been updated to reflect that Judge Dan Hazard said he believes theft from Maumee Municipal Court could have been prevented had the court followed advice from the Ohio Supreme Court.
The case filing system Dan Hazard inherited upon taking over as Maumee Municipal Court judge earlier this year made no sense to him.
Documents of various sizes were packed together and placed in plastic slips. There was no order to the individual papers, which were covered in handwritten notes and stamps.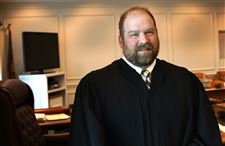 Judge Dan Hazard poses for a portrait at Maumee Municipal Court.
The Blade/Samantha Madar
Enlarge | Buy This Image
Ditching the antiquated system was one of the first changes Judge Hazard made, and he's looking for ways to make cost cuts and improve efficiency.
"I'd get files like this and have to try to figure out what it all meant,' Judge Hazard said. "So I end up taking it all apart and someone has to put it all back together. There aren't words to describe it. And I'd get 60 of these a day."
Judge Hazard's goal is to go paperless and implement electronic ticketing. However, he was recently told the court is "nowhere near" that capability. A newer, simpler filing system with documents in chronological order was put in place for now.
Gary Byers became judge in 1994 and served through 2016 when he was defeated by Judge Hazard to cap off a tumultuous year in the court. The campaign centered on the court's deficit, which ballooned from about $250,000, when Mr. Byers took over, to more than $800,000.
A month before the election, a clerk was indicted on felony charges for stealing more than $30,000 from the court.
The relationship between the court and city had been strained for years under Mr. Byers' leadership, and dueling audits following the theft only made it worse. The city brought in the state auditor to conduct a thorough investigation; the court insisted on hiring a private firm at nearly five times the cost.
Judge Hazard believes the theft could have been prevented had the court followed advice from the Ohio Supreme Court years ago.
"Just a few days ago we found a [performance audit] that hit on that," Judge Hazard said. "It told the court a single person should not collect, record, reconcile, and deposit monies, and recommended the court segregate the duties of reconciliation of bank deposits. That's exactly what led to the issue. The court was told back in 2010 to implement those policies."
The report — which also recommended a new filing system — was never made public, likely because the court under Mr. Byers rarely made their information available, arguing municipal courts were not subject to public records requests.
City council often approved expenditures for the court where services provided on the invoice were redacted. Judge Hazard, who served on council and worked 16 years as a lawyer, said repairing that relationship is key.
"I've told [council] and the administration they can come look through anything they want as far as finances and court function," Judge Hazard said. "We're an open book, and that was definitely one of the hurdles we had before. We either didn't know exactly or didn't know at all how things ran."
Judge Hazard hired Andrea Shrewsberry to the clerk of courts position, filling one of several vacancies following his election. Mr. Byers employed 22 staff, not including security. Through attrition, Judge Hazard is currently at 14 and does not expect that number to get much higher.
Maumee was the only municipal court in the area with a 24-hour clerk at its police station, a practice Judge Hazard has ended. Instead of full-time weekend and overnight staffing, clerks are now on-call and a service allows people to post bond on weekends.
The court recently contracted with an outside vendor to recover more than $1.1 million in overdue court fees.
At the recommendation of the finance department, Judge Hazard's first budget is essentially the same as last year's, plus salary increases. Mayor Carr believes next year's will better reflect the changes.
"He got in January 1 and the budget's already due, so he didn't have much time to go through it," Mayor Carr said. "After a year, the idea is that his programs will be in place and he should be able to come up with a better budget. We're already seeing some changes we believe will reduce costs."
Contact Jay Skebba at jskebba@theblade.com, 419-376-9414, or on Twitter @JaySkebba.
Guidelines: Please keep your comments smart and civil. Don't attack other readers personally, and keep your language decent. Comments that violate these standards, or our privacy statement or visitor's agreement, are subject to being removed and commenters are subject to being banned. To post comments, you must be a registered user on toledoblade.com. To find out more, please visit the FAQ.