New Mud Hens skipper looks forward to Toledo homecoming
1/12/2018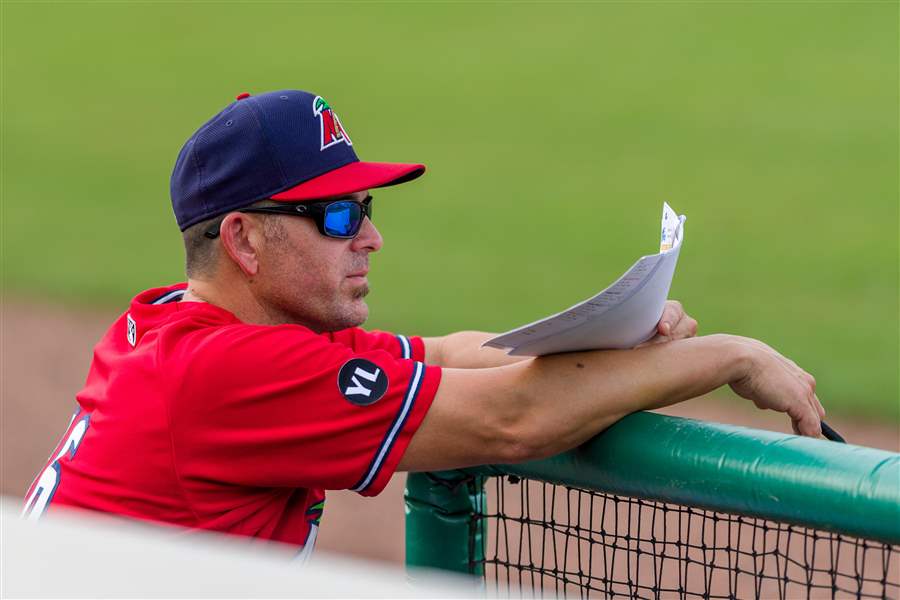 New Mud Hens manager Doug Mientkiewicz, a Toledo native, spent last year with the Fort Myers Miracle.
Fort Myers Miracle/Linwood Ferguson
He played hockey at the Ice House before he could see over the boards and tagged along with his dad to Goaldiggers games, his face pressed against the glass in their regular front-row seats at the old Sports Arena.
Loved hoops, too.
"Doesn't that freaking kid know it's 7 in the morning!?" a half-annoyed neighbor roused by his dribbling once told his parents.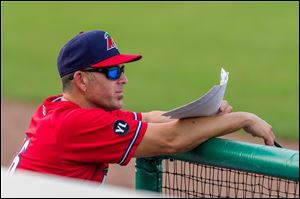 New Mud Hens manager Doug Mientkiewicz, a Toledo native, spent last year with the Fort Myers Miracle.
But for little Doug Mientkiewicz, nothing came so naturally as baseball.
Before the new manager of the Mud Hens went on to hit the game-winning home run in an Olympic medal game and catch the last out of the World Series, he was the big-bopping prodigy of Point Place.
The Mientkiewicz family — Len and Janice and their two kids, Doug and Andrea — lived in a ranch house on the tree-lined corner of 104th and 290th.
One summer, a 5-year-old Doug broke his leg in a fall off the side of their above-ground pool, leaving him inert in an ankle-to-thigh cast. Len knew this would not fly, so he jury-rigged a wheelchair for him, attaching a folding lounge chair atop a creeper used to slide under a car.
Next thing he knew, the neighborhood was raining plastic baseballs.
With his cousin pitching, Doug mashed away.
"There he was lying down hitting them over the roof of the house, three, four in a row," Len said. "It was like, 'Whoa, wait a minute. Holy cow.' "
From there, that freaking kid went a lot of places. The family moved to Miami when he was 7 and Doug kept hitting all the way to a 12-year career in the big leagues.
But it proved only to be the long road back home.
I caught up with Mientkiewicz by phone the other day from his home in the Florida Keys, where, as he learned this offseason, baseball can work in funny ways.
Well, maybe funny isn't the right word.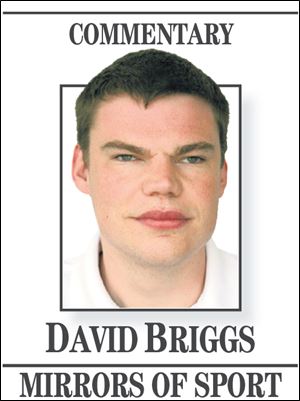 After Hurricane Irma walloped the Keys in September, Mientkiewicz, 43, regained his cell service just in time to learn he was out of work. The Twins dismissed him after five successful seasons managing in their system. "I'm out here working my rear end off, dealing with the remnants of the hurricane, and they call to tell me I'm fired," he told the Minneapolis Star Tribune at the time. "You think they will ever do something professional as an organization?"
Shortly thereafter, though, the lifeline from Toledo arrived.
Mientkiewicz can't wait to get going, though he must admit he's not sure who is more excited: himself or his family. Len and Janice grew up in the city — alums of Woodward and Macomber, respectively — and, by their son's very rough count, still have 66 brothers and sisters here who are now cuckoo for the Hens.
He knows there will come a night at Fifth Third Field he gets booed.
"But I guarantee you," he cracked, "it won't be from the 50 family members I have there."
This is a full-circle homecoming if there ever was one.
Mientkiewicz attended St. John Elementary and went to his first pro baseball game at Ned Skeldon Stadium. He dreamed of playing for the Hens. Or the Goaldiggers. He and his dad loved the bone-smashing hockey team so much they followed them on the road, driving to Muskegon and Port Huron, Flint and Fort Wayne.
The alias he later used at hotels on big-league road trips: Mike Eruzione. That was his childhood hero and the former Goaldiggers star who famously scored the game-winning goal in the "Miracle on Ice" victory over the Soviets in the 1980 Olympics.
But baseball — and narrative symmetry — was his game.
Mientkiewicz saw his first major-league game at Tiger Stadium, then returned to the corner ... well, first things first. The story takes a two-decade pause here. In 1981, Len, an electrician, moved the family to Miami for a salary-tripling business opportunity.
"I was scared to death going to the drug capital of the world," Len said. "I told myself I would keep those kids so freaking busy. I prided myself in never saying no. If my daughter or Doug asked when I came home from work, 'Dad, you want to shoot some hoops? Can we do batting practice?' Yep, let's go."
In Miami, Doug was a prep teammate of Alex Rodriguez but became a star of his own, drafted by the Twins in the fifth round of the 1995 draft.
The next time he returned to Tiger Stadium with his dad? It was to make his major-league debut in September, 1998.
Mientkiewicz went 0 for 3, batting eighth in a Minnesota lineup that included an old Paul Molitor and a young David Ortiz. But better days beckoned. He later starred on the the gold-medal-winning U.S. team in the 2000 Olympics, won the Gold Glove in 2001, and played first base for the Twins' AL Central championship teams in 2002 and 2003 under Ron Gardenhire, now the manager of the Tigers. You might also remember him as the guy who — after a midseason trade to the Red Sox — caught the exorcising last out of the 2004 World Series.
After retiring, Mientkiewicz, a fiery but respected clubhouse pillar as a player, began his second act on the other side of the lines.
Four of his five teams in the Twins system made the playoffs, including his Hi-A club in Fort Myers, Fla., last year. He proudly notes 17 of his former players reached the big club in Minnesota, including star centerfielder Byron Buxton.
"I care a lot," Mientkiewicz said. "I fulfilled my dream and I want these kids to do the same."
He has since cooled over his firing.
"It's only human nature to wonder why," he said. "If I'm not doing the job correctly, tell me during it and I can adapt on the fly. ... But every year is a learning experience."
And he is ready to go in Toledo, where he will be in close communication with Gardenhire as the Tigers set off on a full-scale rebuild. "Fans don't want to hear that word," Mientkiewicz said, "but it's an exciting time in the minor leagues, because you realize you have a chance to make a difference in the organization."
If Toledo is no longer home, there is no place he would rather be.
Contact David Briggs at dbriggs@theblade.com, 419-724-6084, or on Twitter @DBriggsBlade.