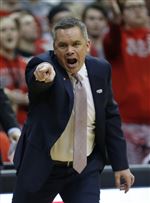 New coach Chris Holtmann has helped Ohio State, which finished 7-11 in the Big Ten last season, to a 13-1 mark in the conference this year.
ASSOCIATED PRESS Enlarge
If the NCAA Tournament began today, the Ohio State basketball team would be a No. 4 seed.
We know this because the tourney selection committee — seeing the popularity of college football's weekly dog-and-pony rankings show — is in its second year of giving fans a few late-season reveals of its top 16 teams.
Ohio State debuted on Sunday at No. 14.
Yes, behind two Big Ten teams it swept in conference play and lead in the league standings. Purdue is No. 4, Michigan State No. 11.
What gives? Not much, actually.
Sure, the Buckeyes (22-5, 13-1 Big Ten) feel a shade underrated. The committee placed too much emphasis on who they were in November and December — when a team breaking in a new coach, system, and pieces lost four games to top-40 RPI teams — and not enough on the searing, Big Ten-leading team they are today. Sorry, just don't see how No. 6 Cincinnati (23-2), which hasn't beaten a top-30 team this season, is eight spots better than Ohio State.
Still, the Buckeyes — new on the national radar in a bad year for the Big Ten — rated about as expected. And if they're underrated or overrated, who cares?
Once the madness of March arrives, the subjective vanishes. All that matters is college basketball's unlikely Cinderella — if Ohio State can ever qualify as such — is headed to the dance.
Contact David Briggs at dbriggs@theblade.com, 419-724-6084, or on Twitter @DBriggsBlade.
Guidelines: Please keep your comments smart and civil. Don't attack other readers personally, and keep your language decent. Comments that violate these standards, or our privacy statement or visitor's agreement, are subject to being removed and commenters are subject to being banned. To post comments, you must be a registered user on toledoblade.com. To find out more, please visit the FAQ.