CLEVELAND — Green and blue confetti rained down from the rafters. Scissor-wielding players climbed up ladders. Kool & The Gang sang about celebrating good times.
The Toledo basketball team missed some kind of party Saturday night at Quicken Loans Arena.
Once more — and never more wrenchingly — it was thrown for someone else.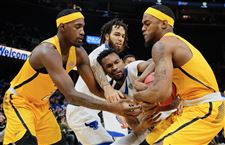 Toledo's Taylor Adway, right, and Willie Jackson, left, battle Buffalo's Montell McRae for a rebound during Saturday's MAC Tournament championship game at Quicken Loans Arena in Cleveland.
BLADE/JEREMY WADSWORTH Enlarge
For the Rockets, the madness ceded to sadness for the 38th year running in a 76-66 loss to Buffalo in the Mid-American Conference championship game.
This time, it came with the acute sense of what might have been.
One victory away from their first trip to the NCAA tournament since 1980, the Rockets gave the heavily favored Bulls everything they had, saving their most inspired performance for the biggest moment. And, in different circumstances, maybe Toledo could have conjured some more eleventh-hour, team-of-destiny magic.
But without their Hemi engine — master-of-all-trades league player of the year Tre'Shaun Fletcher — they didn't quite have the horsepower.
I suppose there is a reason the best fairytales come with a vulnerable villain.
This one did not.
Buffalo was ultimately too good, one of five MAC teams to win at least 15 league games in the quarter century since the conference went to an 18-game schedule, and perhaps the best of that lot since the 2002 Kent State group that romped to the Elite Eight. It showed in the end.
A game tied at 63 gave way to a disjointed final minutes, the fatigued Rockets missing one shot after another, leaving everyone here to wonder if Toledo's missing man would have made all the difference.
Most telling, Toledo finished the night with all of seven assists, the ball Fletcher zipped around the floor all year remaining stuck in place.
Jaelan Sanford and freshman point guard Marreon Jackson — its two other players capable of creating their own offense — tried to fill the void, but it was not the same.
If you're Toledo, all you could do was credit Buffalo and, if you must, play the what-if game.
"We feel like we are the better team," Sanford said. "We feel we should have won. If we have Tre, the player of the year, it's a different ballgame."
"We just couldn't catch a break with that," coach Tod Kowalczyk said. "I really felt [Buffalo] was a little more athletic, a little deeper. I thought we were more skilled, more disciplined, and the better team. We just didn't get a chance to show it tonight without Tre."
We won't go so far as to suggest Toledo is the better team. That's too much, given its regular-season struggles against the better programs in the league, including Buffalo, which beat the full-strength Rockets in the league opener.
But we get it.
Toledo played admirably, bleeding the clock early, keeping up when the pace hastened, and hassling the powerful Bulls' powerful offense all night.
How badly did the Rockets want this? The best 3-point shooting team in the league hit only 7 of 22 shots from beyond the arc, shot 36.7 percent overall, and still were tied with less than five minutes to go.
"Couldn't have played any harder," Kowalczyk said. "Really proud."
Rockets fans should be, too.
Absent context, sure, any season that ends short of the dance is a disappointment. And big picture, I wonder if this season was an island in a ocean of otherwise ordinary seasons. The three previous years, Toledo fell from 20-13 to 17-15 to 17-17, finishing a combined two games over .500 in the league. The difference this season? The Rockets added Fletcher, a one-and-done senior who Kowalczyk called the best leader he has ever coached.
Take away Fletcher, and Toledo will still have some nice pieces. Pretty much everyone else is back.
A solid recruiting class will complement four returning starters, not to mention Willie Jackson and Luke Knapke, a 6-11 sophomore with the skill to be a star if he heaps on the muscle.
But we'll spare the inquisition for another day. The memories are in the journey, and to the end, this surprising Rockets team took us on a March ride to remember.
"We should keep our heads up high," junior guard Nate Navigato said.
Couldn't say it better.
Contact David Briggs at dbriggs@theblade.com, 419-724-6084, or on Twitter @DBriggsBlade.
Guidelines: Please keep your comments smart and civil. Don't attack other readers personally, and keep your language decent. Comments that violate these standards, or our privacy statement or visitor's agreement, are subject to being removed and commenters are subject to being banned. To post comments, you must be a registered user on toledoblade.com. To find out more, please visit the FAQ.