Crisp's suspension 'worth it,' but Walleye need to be smarter
4/15/2018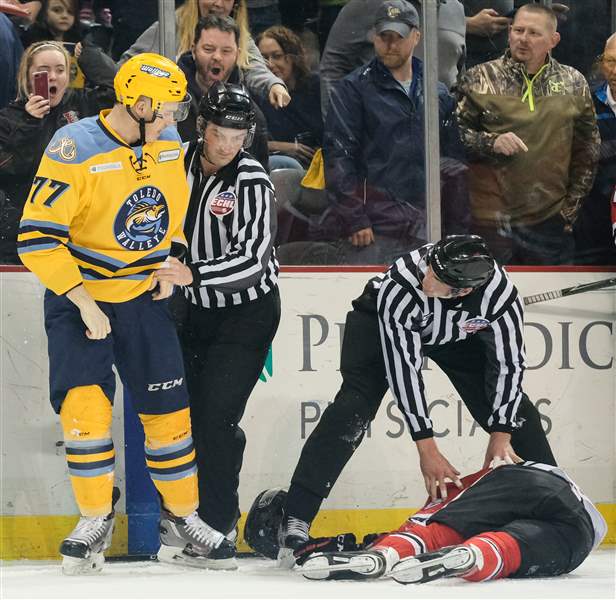 Toledo Walleye forward Connor Crisp is removed from the game after beating down Indy Fuel defender Garrett Clarke during Game 1 of their ECHL first round playoff series.
BLADE/JEREMY WADSWORTH
I wish I could tell you Connor Crisp is a good guy who plays the game the right way.
And that the Walleye forward was avenging a dirty hit inflicted by a pair of fists on skates who leads the ECHL in penalty minutes.
And that the Indy goon kinda, sorta, totally — kids, ignore this — deserved a good punch in the kisser.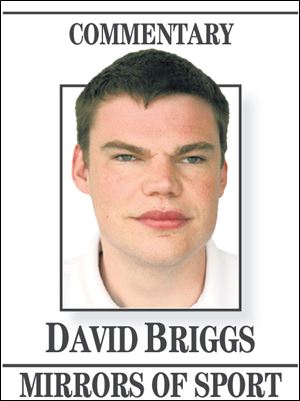 All of that would be true.
But I can't tell you any of that.
Because if I did, they would sound like excuses.
And there aren't any.
While Crisp's actions may have been worth it for as well as they played in his locker room, if we're going to eviscerate other teams for their bush-league shots, the Walleye can't have it both ways.
Crisp and Indy's Garrett Clarke deserved every bit of their one-game suspensions announced Sunday.
It was one thing for Crisp to turn into a one-man vigilante wrecking crew after Clarke's blindside boarding of Christian Hilbrich in Friday night's opener of the Central Division semifinals, ripping the tough-guy impersonator by his neck to the ice. That's sticking up for a teammate.
It was another to sucker punch Clarke as he tried to pull himself up after the scrap. That's weak sauce.
Now, this is not to compare the episode to the pair of assaults we've seen from opponents here the past year. Those deranged fits of cross-checking rage could have been prosecuted. These were church-social pleasantries by comparison.
"We've seen it way worse in this building than that," Walleye coach Dan Watson said.
Not to mention the hit and the suspension galvanized the team. The guys love him. After Toledo's 4-3 win in Game 2, I asked the besuited Crisp if he regretted the punch.
"Every part of it was worth it," he said. "It was a statement that that kind of stuff is unacceptable in hockey right now."
Fair enough. But his stuff was, too, and if Toledo is going to scream murder against other teams, it's an unfortunate look and — in the eyes of the ECHL — clearly a one-time pass for a team with a thin disciplinary file. As the incomparable test of mind and body known as playoff hockey continues on, the Walleye need to be smarter.
It is no secret the rest of the ECHL will do whatever it can to burrow into the four-time defending regular-season conference champion's heads. We saw it last year, teams trying to beat up the Walleye as much as beat them, and we've seen it in two physical games so far this series, including the cheap shot by Clarke, another one of those goons light on talent and heavy on machismo whose act has no place in the modern game. His 259 penalty minutes in 52 games also would pace the AHL and NHL.
None of this is to suggest the Walleye should take anything from anyone.
They are equipped better than ever to handle the bruising sludge of spring, the one-time "darlings" of the league filled with the skill and muscle needed to stand — and defend — their ground come playoff time. Crisp is the perfect example, a 220-pound forward who is a helmet-rattling presence but also has 30 points in 44 games.
"We're about team toughness," Watson said. "We're about sticking up for each other, especially this time of the year."
Of Crisp's role as an enforcer, Hilbrich smiled and said, "You need guys like Connor to come in and mellow everyone out."
But there is a line, and, by sucker punching Clarke rather than squaring him up, Crisp crossed it — even if he is not ready to concede it. ("It's part of the game," he said. "It's just first instinct. Plays like that happen all the time.")
To be the best team in the ECHL, the Walleye need to be the bigger one, too.
Contact David Briggs at dbriggs@theblade.com, 419-724-6084, or on Twitter @DBriggsBlade.