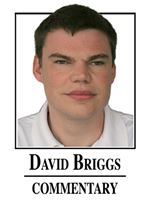 THE BLADE
Enlarge | Buy This Image
PETTISVILLE, Ohio — The birth of a program began with many deaths.
When Tom Wagner was appointed the track and field coach at Pettisville High in spring 1982, the school in this no-stoplight community of 498 had neither a track nor a field — just a cemetery next door.
And so he made do.
Long jumpers jumped into a pit of knee-scraping fill dirt, high jumpers on to a net stuffed with old foam basketballs and footballs. A chalk circle in the parking lot was the shot put ring. For sprints, the team used the warning track on the softball diamond.
Hurdles?
"We joked we should use the gravestones," Wagner said.
Thirty-seven seasons later, I met the just-retired 64-year-old coach for eggs at Das Essen Haus, a diner outside of town where everybody knows his name.
Chances are you do not.
But I bet you know a Tom Wagner, an outsider who came to a little town with big dreams and poured his heart into building something special.
WATCH: Tom Wagner reflects on 37 years as Pettisville's cross country and track and field coach
A Swanton native, Wagner worked a factory job at Chrysler to put himself through college at Toledo, then went off to pay his dues as a fifth-grade teacher in Pettisville. "I figured I'd start there for a few years," he said, "then go to a bigger school."
Instead, a few years became a lifetime. Wagner took over the running programs and never let go. He raised two kids and two generations of athletes here, all of whom he encouraged though his gravelly voice: "Now, we're cooking with tomato sauce." It was his way of recognizing a job well done, which meant over the years his teams went through more tomatoes than a Heinz factory.
Between the boys and girls cross country and track and field programs, the Blackbirds won 41 Buckeye Border Conference titles and — as a welcome sign on Main Street reminds visitors — a state championship. In one of the most unusual feats in local high school history, the school's lone representative at the 1991 Division III state tmeet — a senior named Lincoln Cobb — won the long jump and 100-meter dash and placed second in the 200, by himself giving Pettisville enough points to capture the boys team title.
Along the way, he watched his own Track of Dreams rise from the fields. Next to a line of grain solos four blocks from the school, volunteers poured an old-school limestone track in 1990 and an all-weather oval followed in 2006. Wagner cried the first time he saw steam rising from the asphalt.
"Knowing where we started, I couldn't control myself," he said. "It was kind of like the Berlin Wall coming down. I never in my lifetime thought I'd see that. I didn't think we'd ever get a track, let alone an all-weather one. Wow!"
Wagner looks forward to his retirement, which he announced last week. He plans to go leaf peeping in New England this fall and perhaps — stirring the ghosts for real this time — become a Civil War reenactor. But he knows goodbye will not come easy.
"It's been a fun ride," he said. "I want to thank the Pettisville community for allowing me to be a small part of their children's lives."
Happy trails, coach.
Contact David Briggs at: dbriggs@theblade.com, 419-724-6084, or on Twitter @DBriggsBlade.
Guidelines: Please keep your comments smart and civil. Don't attack other readers personally, and keep your language decent. Comments that violate these standards, or our privacy statement or visitor's agreement, are subject to being removed and commenters are subject to being banned. To post comments, you must be a registered user on toledoblade.com. To find out more, please visit the FAQ.