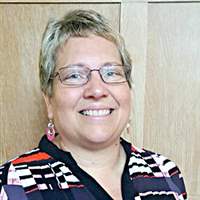 Kleparek
Laura Kleparek, 51, whose third-grade students in the Springfield school district learned lessons in her classroom beyond the curriculum, died July 30 in her South Toledo home.
She continued to teach at Crissey Elementary through chemotherapy and other treatment that followed a diagnosis of breast cancer in 2015. She lost her hair, but found wigs and other head coverings uncomfortable, said Nichol Rice, who also teaches third grade. Still, Mrs. Kleparek came to her classroom.
"She was just beautifully bald, that's it," Mrs. Rice said. "And it really opened the kids' eyes, too."
Mrs. Kleparek learned in January that the cancer had spread and underwent radiation therapy. Throughout her illness, faculty and staff took turns delivering meals to the Kleparek household. Her colleagues donated their sick days, in case she needed them.
"She took off days for radiation and to pull herself together, but she was there and kept working through it," Mrs. Rice said. "She said, 'Those kids need me, Nichol.' I said, 'We need you too. Don't work too hard.'"
A 1983 graduate of Springfield High School, Mrs. Kleparek taught in the district throughout her career — sixth grade and then fourth grade before she landed in the third grade at Crissey, where she remained.
She found third graders to be fun — and they wanted to learn, her mother, Connie Ashbaugh, said.
"She had the patience of Job," her mother said. "She got along well with parents and tried to involve the parents and help them understand if their children were having problems."
Mrs. Kleparek had a way with students some regarded as troubled or that others couldn't get through to, Mrs. Rice said.
"She was a disciplinarian, but in a gentle way," Mrs. Rice said. "She was very clear about expectations, what was acceptable and not acceptable, but letting them know that her room was a safe place to be."
Tim Kleparek, her husband, added: "She had a natural way of being in charge."
She served on committees at Crissey and tutored students after school. She was thrilled when she went to high school football games and noticed former students in the band or otherwise as leaders, her husband said.
"She inspired them, and that's what education is all about, to use the tools she gave them to go further. She showed kids how to be leaders and how to to inspire others," her husband said.
She was born Dec. 14, 1965, and grew up in East Toledo and Florida, before the family settled in Springfield Township.
She long had an interest in working with children, and was director of a YMCA summer day camp at the Lucas County Recreation Center. She had a bachelor's degree in recreation and leisure from the University of Toledo and even considered becoming a park ranger. She received a master's degree in education, also from UT.
She was a Girl Scout leader when her daughter, Emily, was a member, and she coached youth soccer when her son, Ben, played. At St. Paul's Episcopal Church, she taught Sunday school and was a leader in Vacation Bible School. Most recently, she served on the vestry.
Surviving are her husband, Tim Kleparek, whom she married Aug. 8, 1997; daughter, Emily; son, Ben; mother, Connie Ashbaugh; father and stepmother, James and Patricia Schmidlin; and brothers, James, Tim and Jon Schmidlin.
Memorial services will be at 2 p.m. Sunday at St. Paul's Episcopal Church in Maumee, with visitation after 1 p.m. Arrangements are by Newcomer Funeral Home.
Contact Mark Zaborney at mzaborney@theblade.com or 419-724-6182.
Guidelines: Please keep your comments smart and civil. Don't attack other readers personally, and keep your language decent. Comments that violate these standards, or our privacy statement or visitor's agreement, are subject to being removed and commenters are subject to being banned. To post comments, you must be a registered user on toledoblade.com. To find out more, please visit the FAQ.