Darrell H. Fox, a retired Owens-Illinois engineer assigned to global construction projects whose expertise aided Allied efforts in Europe during World War II, died Friday at West Park Place. He was 98.
The former Ottawa Hills resident broke his hip in late August and his health declined, said Bob Cananski, his longtime attorney.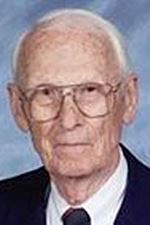 Fox
He moved to West Park Place in 2014, where he kept up the daily constitutional familiar to his longtime neighbors on Brookside Road in Ottawa Hills.
"He was out walking around the facility when he fell and broke his hip two days before his 98th birthday," Mr. Cabanski said.
He was born Sept. 1, 1919, to Ellen and George Darrell Fox and was a graduate of DeVilbiss High School. He was a 1940 graduate of the University Toledo, where he received a bachelor's degree in engineering.
He worked at Surface Combustion and then had a government engineering job that led to work on the Panama Canal. He enlisted in the Army in 1942 and served in the European Theater with the 105th Engineer Combat Battalion. He received a Bronze Star.
After D-Day, June 6, 1944, his group rebuilt bridges and roads that the Nazis destroyed on their retreat to Germany, Mr. Cabanski said.
The engineering department at O-I hired him in 1947, and he worked at the glass maker's facilities across the United States. He had a role in design and construction as the company put up glass plants in Greece, Egypt, and several Latin American nations. He retired in 1983.
He was a member of national, state, and local professional engineers societies and the American Society of Civil Engineers.
He was precise and disciplined away from the office and kept detailed records of personal effects and finances, Mr. Cabanski said.
Mr. Fox was a 67-year member of the Toledo Club and belonged to the Toledo Country Club, Belmont Country Club, and Boca Raton Resort and Club in Florida. He was a former director of the northwest Ohio chapter of the Arthritis Foundation. He also played a longtime role in the annual fund-raising campaigns of United Way of Greater Toledo.
He and his wife, who had no children, enjoyed the annual visits by his niece Kathy Alexander and her then-young daughters.
"We would go out to dinner and they took pride in how well behaved the little girls were," Mrs. Alexander said. "He enjoyed having the girls in town and giving the royal treatment to all of us."
Sue LaPointe started to cook and clean for the Foxes in 2002, succeeding her mother, Rosemary Koch, who worked in the couple's home for decades. Ms. LaPointe and Mr. Fox in jest said they were solving the world's problems during their weekly lunches.
"At the end we'd usually say, well, we didn't solve anything this week," Ms. LaPointe said.
He and the former Doris Jean Zimmerman married May 18, 1946. She died June 11, 2006.
He has no immediate survivors.
A memorial service is scheduled for 11 a.m. Thursday in the Sanctuary of Memories Mausoleum at Ottawa Hills Memorial Park. Arrangements are by Walker Funeral Home.
Tributes are suggested to the Doris Jean and Darrell H. Fox Donor Advised Fund at the Toledo Community Foundation or to First Congregational Church, where he was a member.
Contact Mark Zaborney at mzaborney@theblade.com or 419-724-6182.
Guidelines: Please keep your comments smart and civil. Don't attack other readers personally, and keep your language decent. Comments that violate these standards, or our privacy statement or visitor's agreement, are subject to being removed and commenters are subject to being banned. To post comments, you must be a registered user on toledoblade.com. To find out more, please visit the FAQ.