Charles H. Darnell, long affiliated with Bowsher High School as a teacher and athletic director, who coached golf for most of his career and more than a decade into retirement, died Feb. 7 at Hospice of Northwest Ohio, Perrysburg Township. He was 74.
He had a stroke in early November, but he'd been in ill health the last four years, his family said. He had kidney failure and was a dialysis patient.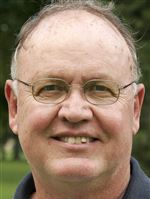 Darnell
THE BLADE
Enlarge | Buy This Image
For more than 30 years, while his health allowed, he owned Darnell Painting Co., which started as summertime self-employment and grew into a business with an office and full-time employees. The company did residential and commercial painting, including work at restaurants, stores, and units of the Lucas Metropolitan Housing Authority.
"A lot of the work came from word of mouth, because he was so well known to the community," said his daughter, who worked for him.
Mr. Darnell taught nowhere else but Bowsher. He was hired after he graduated in 1965 from Bowling Green State University. He was head football coach for five years and athletic director for 18 years. He also coached basketball and track. He retired in 1997.
He coached golf for decades, until 2009, when Toledo Public Schools dropped the sport, said Terry Reeves, current Bowsher athletic director.
"He never left there, and he never left the south end," said Dave Schaetzke, a 1969 graduate, who his senior year was quarterback of Bowsher's first team to take a City League championship. Mr. Darnell was the team defensive coordinator, an assistant to head coach George Machoukas.
"He had a heart for the south end and kids who went to Bowsher — and their kids went to Bowsher," said Mr. Schaetzke, whose children went to Bowsher as well. "There was a always a connection of that leadership. He's done a lot of things for this area."
Mr. Darnell started as an English teacher, and he remained a stickler for grammar, punctuation, and proper usage, his daughter said. When he began graduate studies at the University of Toledo, he knew he didn't want to be a counselor or administrator. Instead, in 1972, he received a master's degree in vocational education.
He devoted the rest of his teaching career to the occupational work experience program at Bowsher. He taught students core academic subjects in the morning. In the afternoon, the students went off to their work experience — real-world jobs that Mr. Darnell had arranged for them.
"He had a pretty rough life growing up," his wife, Connie, said. "He just wanted to help kids not go through what he went through. He never came home and said, 'I hate my job.' He loved teaching and loved the kids. I think he had a compassion for them because of his childhood."
He was a father figure to some, his wife said, and in turn got calls through the years from students who were arrested or found other trouble. But he was strict and, in an era when corporal punishment was allowed, used a paddle on occasion.
He was named Ohio's outstanding occupational work experience teacher in 1986 at a ceremony in Columbus, his wife said.
He was a 1998 inductee to the Bowsher Athletic Hall of Fame and attended the most recent dinner in October.
"I can't imagine the number of people he touched through 30-some-odd years of students and athletes and community functions," said Mr. Schaetzke.
He was born July 1, 1943, in Marion, Ohio, to Sarah and Wendall Darnell. He was a 1961 graduate of Marion Harding High School and received a golf scholarship to BGSU.
Surviving are his wife, the former Connie Uncapher — and his high school sweetheart — whom he married June 25, 1966; daughters Cherie Rose and Corie Chaplin; sisters Birdie Sayre and Mary Darnell; brother, Gerald Darnell, and five grandchildren.
Visitation will be from 4-8 p.m. Monday at the Maison-Dardenne-Walker Funeral Home, Maumee. Graveside services will be at 1 p.m. Tuesday at Marion Cemetery, Marion, Ohio.
The family suggests tributes to support scholarships through the Toledo Junior Golf Association or the Southside Sportsmen Club.
Contact Mark Zaborney at mzaborney@theblade.com or 419-724-6182.
Guidelines: Please keep your comments smart and civil. Don't attack other readers personally, and keep your language decent. Comments that violate these standards, or our privacy statement or visitor's agreement, are subject to being removed and commenters are subject to being banned. To post comments, you must be a registered user on toledoblade.com. To find out more, please visit the FAQ.