Frank J. Piasecki, Sr., a former champion motorcycle racer who focused on service and respect when he took over his family's Reynolds Corners auto repair and towing business, died Monday in Genesis HealthCare's Swanton Valley Center in Swanton. He was 91.
He was in declining health, his family said. Mr. Piasecki and his wife, Donna, lived in westernmost Toledo — at one time part of the former Adams Township. That also was the jurisdiction where in 1936 his parents founded Piasecki Service Inc. on Dorr Street near Reynolds Road, a community called Reynolds Corners.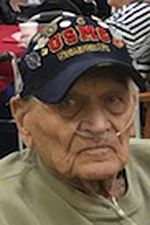 Piasecki
He helped out at the business even at age 10. He took over after returning from Marine Corps service in World War II. Newspaper accounts of the era called the business "a filling station and garage," but motorists pulling in for a fill-up had their tank filled, their oil and tires checked, and windows washed.
"Mom did the bookkeeping," son Kevin said. "And Dad did the supervision and mechanical work. He had a good crew of guys."
A customer recently recalled that when her car broke down, Mr. Piasecki stayed to make sure it was fixed. She then realized she didn't have a way to pay him, son Kevin said.
"He said, 'Just come see me tomorrow,'" son Kevin said. "He did things like that. He trusted people tremendously. That's just what he did. It's like he was more interested in fixing somebody's car than he was putting money in his own pocket."
Son Jim said: "He was respectful."
A retrofitted military vehicle became a wrecker, and the business for several years did towing service for AAA. Mr. Piasecki retired from daily operations in 1985, and sons Jim and Kevin are co-owners. He continued to drive a wrecker until age 76.
He'd been a captain in the Adams Township volunteer fire department. By the late 1960s, with the last parcel of land annexed into Toledo, the township ceased to exist.
Mr. Piasecki rode dirt bikes and cycles from the age of 13, he told the former Toledo Times in 1960. He came to prefer endurance races and, in the 1950s, received wide attention with a string of wins — including a 500-mile national championship and a Daytona Beach, Fla., derby that required riding over beach, highway, fields, and swamp.
In a 1952 magazine ad for B.S.A. Motorcycles, Mr. Piasecki was pictured astride a motorcycle and cradling a trophy in one arm. A broken leg was his worst injury, he told the Times, even as he received his share of bumps and bruises.
He continued racing until the early 1970s. His sons raced as well and, for several years, the Piaseckis had a dirt bike and motorcycle shop.
He was born April 24, 1926, to Emily and Casper Piasecki and was a 1943 graduate of Woodward High School. He was a sharpshooter in the Marines and was stationed on Guam. He was a longtime member of the American Legion Adams Townshp Post 553. He later coached target shooting at Adams Conservation Club, where he was a member.
Surviving are his wife, the former Donna Clark, whom he married Sept. 14, 1946; daughter Pamela Fahrer; sons Frank "Jim," Jr., Jeffrey, and Kevin Piasecki; seven grandchildren; three step-grandchildren; four great-grandchildren, and three step-great-grandchildren.
Mr. Piasecki requested private services, his family said. Arrangements are by Neville-Shank Funeral Home.
The family suggests tributes to Ohio Living Home Health & Hospice of Greater Toledo or Swanton Valley Center.
Contact Mark Zaborney at mzaborney@theblade.com or 419-724-6182.
Guidelines: Please keep your comments smart and civil. Don't attack other readers personally, and keep your language decent. Comments that violate these standards, or our privacy statement or visitor's agreement, are subject to being removed and commenters are subject to being banned. To post comments, you must be a registered user on toledoblade.com. To find out more, please visit the FAQ.