Clyde W. Sandrock, who continued his family's farming legacy in Ottawa County's Allen Township even as he took a chance on niche crops, died Wednesday in Mercy Health St. Charles Hospital, Oregon. He was 86.
His wife, Mary Schimming, said that he developed complications related to C. diff — as the intestinal bacterium Clostridium difficile is commonly known.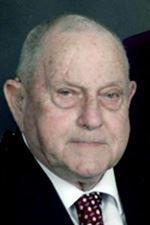 Sandrock
HANDOUT NOT BLADE PHOTO Enlarge
Mr. Sandrock and his daughter Roberta Orians farmed together, and she took over the operation when he retired about 20 years ago.
He was born on the farm Sept. 10, 1931, to Clara and Fred Sandrock. He attended one-room schoolhouses and the then-new Allen Central School. He was a 1949 graduate of Genoa High School.
"He was a dedicated farmer. In fact, he would get permission to stay out of school to help his dad harvest crops in September," his wife said.
His daughter said: "It was in their blood. They farmed. That was how they took care of each other."
He owned about 200 acres of the 700 he farmed, his daughter said. The family had livestock as he was growing up. In the 1960s, especially, he raised pigs and milked dairy cows. He baled straw and hay for a diversity of customers, which he then loaded on his truck and delivered across the state — to fellow farmers, Amish people in eastern Ohio, and state prisons, including Mansfield Correctional Institution, which raised beef cattle.
Wheat, corn, and soybeans were his mainstays. Nontraditional crops required special equipment and came with risk but also the promise of reward.
"When the crops were good, you could make some money," his daughter said. "Whatever you could make some money at, you did — or tried."
He grew sugar beets for several years until the processing plant in Fremont closed. He grew tomatoes for the processing plants run by Stokely-Van Camp in Curtice, Ohio, and Hunt's in East Toledo. He grew sweet corn, tomatoes, cucumbers, and pumpkins for sale at the family's roadside stand.
In decades past, he found winter work at shipyards in Toledo, his daughter said. He later bought two big rigs for hauling grain, which he and his daughter did for Luckey Farmers, Inc., taking crops from the regional grain cooperative's elevators to those on the Maumee River in Toledo.
He had a serious side: "You gotta farm, and you gotta get it done," his daughter said, adding, "People might not realize it, but he was a funny person. He joked around a lot."
Mr. Sandrock and his wife played pinochle with other couples and attended Genoa schools' sporting events.
A cruise along Mexico's west coast more than a decade ago was cut short when he had chest pains on the way to Acapulco.
Afterward, he'd say, " 'If we go on a trip, I'll take you to Clay Center,' " his wife said.
He and the former Donna Grosjean married Sept. 20, 1952. She died in June, 2004.
Surviving are his wife, Mary Schimming, whom he married Oct. 16, 2004; son, Loren Sandrock; daughters, Roberta Orians and Deborah Amborski; stepson, Jerry Schimming; stepdaughter, Anita Montague; eight grandchildren; 12 great-grandchildren; two stepgrandchildren, and a stepgreat-granddaughter.
Memorial services will be at 11 a.m. Saturday at St. John Lutheran Church in Williston, Ohio, where he was a member. Arrangements are by Robinson-Walker Funeral Home, Genoa. The family suggests tributes to the church.
Contact Mark Zaborney at mzaborney@theblade.com or 419-724-6182.
Guidelines: Please keep your comments smart and civil. Don't attack other readers personally, and keep your language decent. Comments that violate these standards, or our privacy statement or visitor's agreement, are subject to being removed and commenters are subject to being banned. To post comments, you must be a registered user on toledoblade.com. To find out more, please visit the FAQ.