Ronald F. Ray, who found adventure in careers as a police officer and then a pilot, died Tuesday in ProMedica BayPark Community Hospital. He was 77.
He'd had two strokes and had heart and other health problems, his wife Darlene Ray said.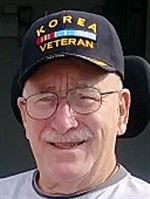 Ray
Mr. Ray of Oregon retired in 2002, his last post being as a court security officer for the U.S. Marshals Service in Dayton.
"The first thing he did was take his motorcycle and visit his nephew in Tucson, Arizona. Cross country," his wife said. "He was gone about a month. It was something he always wanted to do. He did it."
He was born Oct. 10, 1940, to Mary and Harold Ray and grew up on Rock Court in North Toledo.
"He liked to talk about how awesome his childhood was," his wife said.
He was a 1958 graduate of Woodward High School, where he played first base on the varsity baseball team for four years. Army service followed, including about 17 months in South Korea.
Back home, he went to work for Jeep as he aspired to work in law enforcement.
"He wanted to be a policeman his entire life," his wife said. Both brothers went into police work, including his twin, Fred, who became first police chief of Perrysburg Township and was police chief of Swanton. His twin had a connection on the Sylvania Township department, and Mr. Ray was hired in 1966 to a force of six uniformed officers, the chief included.
He was an officer in Sylvania Township for about three years and then an officer on the Maumee police department for about five years.
"He loved every day," his wife said. "It was something new every day. It was meant to be. He was calm and cool about everything. He never got excited."
A high school friend who took a job with the Fort Lauderdale, Fla., police enticed Mr. Ray to the department by reporting that more happened there in a day than in a year on the Maumee force. Mr. Ray was hired, moved his family south, and lived the truth in his friend's review.
"It was everything he dreamed of. He was shot at and shot at people," his wife said. "He would only work in the worst section, and he only worked at night, because that's when the action was."
Mr. Ray, who served on the Fort Lauderdale department from 1972-85, became part of the undercover tactical impact unit.
"That was the excitement of his absolute life," his wife said. "They took a lot of really bad guys off the streets."
His police duties included being a pilot with the air unit, flying surveillance details in an airplane and, later, a helicopter. He left the Fort Lauderdale department to fly a helicopter for the Rockwell family of Rockwell International, the defense and aerospace manufacturer. Mr. Ray was based in the Pittsburgh area, but often was called on to fly family members from Florida to the Bahamas and back, his wife said.
Later, as a helicopter pilot for Crescent Airways, he ferried passengers who needed to get to the site of the oil spill from the Exxon Valdez in Alaska.
Returning to Ohio, he flew helicopters for the Allen County sheriff's office.
Surviving are his wife, Darlene Ray, whom he married Oct. 19, 1990; daughters Marla Ray, Tammy Chadwick, and Jennifer Miles; stepdaughter, Dina Biglin; stepson, Dru Smith; brother, Hal Ray; sister, Debbie Whiting; 11 grandchildren, and two great-grandchildren..
Services will be private. Visitation will be from noon-6 p.m. Sunday in the Freck Funeral Chapel, Oregon, with military honors at 3 p.m.
The family suggests tributes to the Toledo Community Based Outpatient Clinic of the U.S. Department of Veterans Affairs.
Contact Mark Zaborney at mzaborney@theblade.com or 419-724-6182.
Guidelines: Please keep your comments smart and civil. Don't attack other readers personally, and keep your language decent. Comments that violate these standards, or our privacy statement or visitor's agreement, are subject to being removed and commenters are subject to being banned. To post comments, you must be a registered user on toledoblade.com. To find out more, please visit the FAQ.