NAPOLEON — Mary Frances Meekison, a publisher, writer, and photographer, died March 5 at her Napoleon home. She was 98.
She had gastrointestinal problems, her daughter Beth Meekison said.
Mrs. Meekison was a contributing writer for about 65 years for the Saint Mary's College Courier, Notre Dame, Ind. Over the years, she had also written for the Catholic Chronicle, Toledo, and had several articles in the Chicago Tribune and the South Bend Tribune.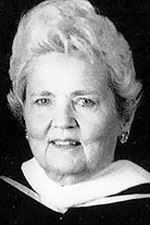 Meekison
Mrs. Meekison wrote for newspapers, magazines, and community pamphlets from the late 1940s until the week she died, her daughter said. Additionally, Mrs. Meekison took and published pictures from the late 1960s until her death, winning photography awards at the local, state, and national levels, she said.
In 1963, Mrs. Meekison wrote Canal Days To Modern Ways about the local history for Napoleon's centennial celebration.
In 1984, she wrote and edited Canal Days To Modern Ways Revisited, Sesquicentennial Edition, 1834-1984.
"For 150 years, concerned citizens have struggled and sacrificed to make this community better," she wrote at the end of the book.
"Our lives, like the river, will flow on. As a community, it is important to preserve precious facets of Napoleon's past, yet we must also strive diligently to make the present productive, not only for ourselves but for our children and our children's children."
Mrs. Meekison also was a past 25-year member of the Napoleon Public Library board of trustees.
In 1990, Mrs. Meekison was named the Napoleon-area Citizen of the Year.
In 1991, she was awarded the Saint Mary's President's Medal at the college's commencement.
Mrs. Meekison was a Saint Mary's College Alumnae Board of Trustees member for many years.
In 2001, she was inducted into the Saint Mary's Athletic Hall of Fame for her basketball and tennis accomplishments when she was a student at the college.
"I think she was so successful because she lived in the spirit and in the manifestation of God," her daughter said. "Her strength also came from her family and from her association with Saint Mary's College and her community. ... While she was a writer, the camera was always her friend."
Said Mrs. Meekison's neighbor Terry Witt, a retired Napoleon Schools teacher, "She was a quiet person, but she was always very interested in the community, its history, and preserving that history. She was very intellectual, she was a great reader, and she was very intrigued with the high school athletics and the performing arts."
Mrs. Meekison was born April 9, 1919, in Napoleon to Frank and Elizabeth Shaff.
She graduated from Napoleon High School and later continued her studies at Saint Mary's College until about 1940 when she had a child. A year before that, she married David Meekison. He died in 2010.
In her free time, Mrs. Meekison enjoyed reading about arts, sports, and politics. Until she was in her early 90s, she also enjoyed sailing and power boating out of Port Clinton, her daughter said.
Mrs. Meekison was a member of the St. Augustine Catholic Church, Napoleon, and a friend of the Congregation of Holy Cross, Notre Dame, Ind.
Her other memberships included the American Legion Post 300, the Browsers Literary Society, and Henry County Historical Society, all in Napoleon.
Surviving are daughters, Maureen Houppert and Beth Ann Meekison; son, David F. Meekison; five grandchildren, and three great-grandchildren.
There will be no visitation.
Funeral services will begin at 11 a.m. Monday at St. Augustine Catholic Church, 210 E. Clinton St., Napoleon.
Arrangements are by Rodenberger Funeral Home, Napoleon.
The family suggests tributes to the Henry County Historical Society or the church.
Contact Mike Sigov at sigov@theblade.com, 419-724-6089, or on Twitter @mikesigovblade.
Guidelines: Please keep your comments smart and civil. Don't attack other readers personally, and keep your language decent. Comments that violate these standards, or our privacy statement or visitor's agreement, are subject to being removed and commenters are subject to being banned. To post comments, you must be a registered user on toledoblade.com. To find out more, please visit the FAQ.