Michael Stolar (1925-2018)
Downtown furrier known for his baked confections
4/16/2018
Michael Stolar, a downtown Toledo furrier for decades who also enjoyed baking for family, friends, and parishioners at his church, died Thursday in his Rossford home. He was 92.
Caroline Huffman, a niece, said she did not know the immediate cause of her uncle's death but that his health had generally been declining.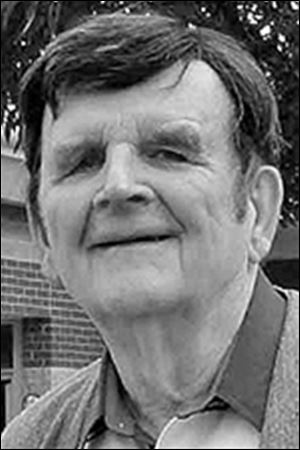 Stolar
She said Mr. Stolar was "a very particular person," which was a good fit for a trade in which he custom-made garments for customers from raw pelts.
He entered the fur business as an apprentice with Genfen Furs on Madison Avenue in Toledo, Mrs. Huffman said. When the Genfens retired from the business, he took it over and eventually renamed the business Michael Furs.
Mr. Stolar operated his store until 1996, when he closed it. He was in his early 70s at the time.
Born Aug. 14, 1925, to Michael and Caroline Stolar, Mr. Stolar lived in Rossford for his entire life except for a stint in the Army. He enlisted in 1944 and served an overseas tour in Japan before he was honorably discharged as a private first class in 1946.
He had graduated from Rossford High School and worked for a short time at Libbey-Owens-Ford before entering the military.
In 1961 he hired a builder to construct a house on acreage he bought in Rossford, and he lived there until his passing. His mother also lived there until her death, Mrs. Huffman said.
Mr. Stolar's culinary pursuits featured cookies, nut rolls, apricot rolls, and apple strudel that he often baked for what was then Ss. Cyril and Methodius Church in Rossford.
He was for many years a passionate fan of professional sports teams in Detroit, including the Tigers, Red Wings, and Lions, and in later years he also followed the Cleveland Indians and Cavaliers, his niece said.
Mr. Stolar also enjoyed watching the NCAA men's college basketball tournament on television each March, and when he was no longer able to attend church he watched daily Mass on television as well.
Mr. Stolar is survived by a sister, Elizabeth Wascak.
The body will be in All Saints Catholic Church, 628 Lime City Rd., after 9:30 a.m. Tuesday, followed by a funeral Mass at 10:30 a.m. in the church.
The family suggests memorial tributes to the church. The Sujkowski Funeral Home in Rossford is handling arrangements.
Contact David Patch at dpatch@theblade.com or 419-724-6094.