Norman J. Rasmusson, an electrical engineer and manager at Libbey-Owens-Ford Co. facilities in East Toledo and Rossford, who landed at Normandy with his Army engineers battalion two weeks after D-Day, died Saturday at Hospice of Northwest Ohio, Perrysburg Township. He was 95.
He had congestive heart failure, his wife, Nancy Rasmusson, said.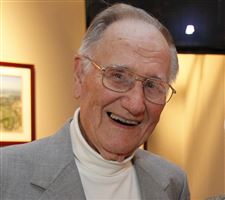 Rasmusson
THE BLADE
Enlarge | Buy This Image
Mr. Rasmusson retired in the early 1980s from L-O-F. He worked with consulting firms for another decade and helped make sure electrical transmission facilities were in place when a steel plant was planned for Delta, Ohio.
He studied electrical engineering at the University of Toledo, a benefit of the GI Bill. He worked at Haughton Elevator before and after World War II. L-O-F hired Mr. Rasmusson to its engineering staff in 1953. He worked on various plate and window glass furnace projects and, in 1956, was promoted to chief electrician of the East Toledo plate glass plant.
He became assistant plant engineer in 1967 at East Toledo and plant engineer in 1971. He later had a brief stint as manager of L-O-F executive office facilities, working from headquarters in downtown Toledo.
He'd been a member of the Engineering Society of Toledo and was a former president of the local chapter of the Institute of Electrical and Electronics Engineers.
He was born May 24, 1923, in Spruce, Mich., to Nellie and Rangvald Rasmusson. The family later moved to Reynolds Corners — South Toledo now, but Adams Township as Mr. Rasmusson grew up. He was a 1941 graduate of Macomber Vocational High School, where he received training as an electrician.
He joined the Army in 1943 and became part of the 1303rd Engineer Battalion, 12th Corps, Third Army, led by then-Lt. Gen. George S. Patton. Landing at Omaha Beach on D-Day-plus-14, Mr. Rasmusson and his unit were not let off their vessel right away.
"The German bombers flew over several times and made us as unwelcome as possible," Mr. Rasmusson told Richard Baranowski, local history librarian at Way Public Library for Mr. Baranowski's 2017 book, Now Hear This! Perrysburg Veterans in War and Peace. "Since it was only a couple weeks after the invasion, the English Channel was still full of ships as far as the eye could see in any direction," Mr. Rasmusson said in the book.
Two weeks in, American troops still encountered German soldiers hiding in the hedgerows of Normandy. He received five battle stars and became a corporal.
Years after returning home, Mr. Rasmusson joined American Legion Toledo Post 335.
He was honored in 2005 by the U.S. Department of Veterans Affairs.
Mr. Rasmusson was a member since 1961 of First Presbyterian Church of Maumee, where he was an elder and deacon and sang bass in the Chancel Choir.
"He had a respectability," said Ned Braunschweiger, 81, also a member of the congregation. "He was somebody older who showed me the way, and still does."
He also performed for years with the former Seaway Commanders, a barbershop chorus.
He and the former Leona Blank married Sept. 3, 1949. She died in November, 1959.
Surviving are his wife, the former Nancy Hadley, whom he married Oct. 7, 1961; sons, Donald and Paul Rasmusson; daughters, Cynthia Shiver and Gail Fader; 10 grandchildren, and eight great-grandchildren.
Memorial services will be at 4 p.m. June 23 at First Presbyterian Church of Maumee, where the family will receive guests after 2 p.m. Arrangements are by Walter Funeral Home.
The family suggests tributes to the church, Hospice of Northwest Ohio, or a charity of the donor's choice.
Contact Mark Zaborney at mzaborney@theblade.com or 419-724-6182.
Guidelines: Please keep your comments smart and civil. Don't attack other readers personally, and keep your language decent. Comments that violate these standards, or our privacy statement or visitor's agreement, are subject to being removed and commenters are subject to being banned. To post comments, you must be a registered user on toledoblade.com. To find out more, please visit the FAQ.