Susie M. Shew, who helped form the Women's Center and Women in Philanthropy at the University of Toledo, died May 29 in her daughter's home in Toledo. She was 87.
For the past several years, Mrs. Shew suffered from dementia, but her illness didn't destroy her joy or her passion for helping others, said her daughter, Sarah Shew.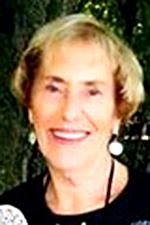 Shew
"She just loved being alive," her daughter said.
Mrs. Shew was born on Oct. 29, 1930, to the Rev. Harold Martin and Alice Shonkweiler Martin and grew up in Bloomington, Illinois. She attended Maryville College in Tennessee, where she met the man she would marry, John Shew, who died in 1989. The family moved around the country a lot, Sarah Shew said, for her father's work as a pastor, before they moved to the Old Orchard neighborhood of Toledo in 1977, where Mrs. Shew continued to reside until her death.
In Toledo, Mrs. Shew went back to school and received a master's degree from UT and became a counselor, Sarah Shew said. She taught classes in assertiveness for women and was a guidance counselor at Ladyfield and St. Francis schools. She wasn't fearful of public speaking, her daughter said, and she was encouraging to everyone she met.
"She really helped people through the dark spots in their lives," her daughter said.
Mrs. Shew counseled people until she was 80 years old, Sarah Shew said. Her last client was a teenage girl who didn't want to talk during their sessions, so they would take walks outside.
Michelle Lever, one of Mrs. Shew's close friends while she lived in Toledo, called her "larger-than-life," and the women would frequently spend time together. Ms. Lever, now a retired teacher, said she looked up to Mrs. Shew as a friend and mentor.
Ms. Lever recalled telling her, "When you get to Heaven, just wait for me, and when I get there, we'll have margaritas."
She was a vibrant person and excited to learn. She was using email long before any of her friends were, Ms. Lever said.
"It was nice to have known her," she said.
Mrs. Shew loved music too and wasn't shy about breaking into song.
"Music was everything to her," her daughter said. "She had an iPod in her ear eight hours a day. There were 3,000 songs on there."
Through her mother's example, Sarah Shew said she has become a cheerleader to the people she loves, as well.
"In such a hard world, she was such a safe place to go," she said. "Her cup was always half-full."
Mrs. Shew had been living in Parkcliffe Memory Care and Assisted Living Community, but her daughter brought her home. She said she lay in bed with her mother, who died leaning on her daughter's shoulder.
"It was very special," she said.
Surviving are daughters Kathy Shew-Felchle and Sarah Shew; sons Rev. David Shew and Tim Shew; and seven grandchildren.
Ansberg-West is handling the arrangements.
A celebration of life is set for 2 p.m. on June 22 at Collingwood Presbyterian Church at 2108 Collingwood Blvd., Toledo. Music will begin 30 minutes before the ceremony. A reception will follow.
Contact Kate Snyder at ksnyder@theblade.com, 419-724-6282 or on Twitter @KL_Snyder
Guidelines: Please keep your comments smart and civil. Don't attack other readers personally, and keep your language decent. Comments that violate these standards, or our privacy statement or visitor's agreement, are subject to being removed and commenters are subject to being banned. To post comments, you must be a registered user on toledoblade.com. To find out more, please visit the FAQ.