BOWLING GREEN — David Elsass, former dean of education at Bowling Green State University and longtime Bowling Green City Council member, died Saturday at Heritage Corner Assisted Living Center. He was 93.
Doctors attributed the death partly to congestive heart failure and pulmonary fibrosis as well as overall decline in health from old age, his son Douglas said, adding that his father's health had worsened in the weeks prior when he went into hospice care.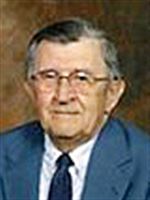 Elsass
In 1989, Mr. Elsass was named professor and dean emeritus of education after an almost 30-year tenure at BGSU, where he became the first college alumnus to become administrator of the college he attended.
At the helm of the State University Education Deans in 1974-75 and the Ohio Association of Colleges for Teacher Education in 1976-77, he served a key role in Ohio's statewide redesign program for standards in teacher education and licensure. As dean, he led the College of Education through academic changes to comply with those regulations.
During the late 1960s and 1970s, he worked to prevent a shutdown of BGSU in the midst of student unrest. In 1986, he was named the College of Education's Alum of the Year, and in 2001, the Ohio Department of Education named him "A Pioneer in Ohio Education."
For those who knew Mr. Elsass, he was always acutely organized — even preparing for his own passing by drafting his obituary years before his death. His son said the obituary, full of details from his time in the Army and on city council, was representative of his father's appreciation for history.
"He was a historian, interested in passing on a lot about family history and history of the area," his son said. "He was a very proud Ohioan."
Indeed, Mr. Elsass lived his whole life in the Buckeye State. David Gordon Elsass was born Jan. 28, 1925, to Fred P. Elsass, a state legislator and owner of a construction company, and Margie Ludwig Elsass in Anna, Ohio. He graduated from the local high school in 1943.
After graduation, Mr. Elsass entered the Army at the tail end of World War II. In July, 1945 — just three days from completing his time at an Army furlough in Camp Crowder, Mo. — he met Mary Jane Lawrence, a home economics teacher in Anna. The two were married two years later at a church in her hometown of Steuben.
As part of the G.I. Bill, Mr. Elsass graduated summa cum laude from BGSU in 1949, where he lived in the barracks constructed for World War II veterans like himself. A recent college graduate, he became a social studies teacher in the Wauseon Public School System, eventually rising in the ranks to principal of its high school. Earning a master's degree in education from BGSU in 1953, he spent two years as an associate professor of education at Baldwin Wallace College before returning to the secondary school system as principal of Avon Lake High School.
In 1960, his alma mater recruited him to the faculty, where just a year later he rose to assistant to the dean of the College of Education and soon after received his doctorate in education from Western Reserve University.
He is survived by his wife, Mary Jane; sons, Douglas and Daniel, and four grandchildren.
Visitation will be at 10 a.m. Saturday at St. Mark's Church in Bowling Green, followed by a funeral service there at 11 a.m.
Contact Hailey Fuchs at hfuchs@theblade.com, 419-724-6050, or on Twitter @Hailey_Fuchs.
Guidelines: Please keep your comments smart and civil. Don't attack other readers personally, and keep your language decent. Comments that violate these standards, or our privacy statement or visitor's agreement, are subject to being removed and commenters are subject to being banned. To post comments, you must be a registered user on toledoblade.com. To find out more, please visit the FAQ.