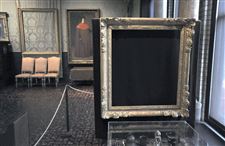 In 2010, thieves left behind emptry frames at the Isabella Stewart Gardner Museum in Boston.
ASSOCIATED PRESS Enlarge
Another chapter has closed in the 27-year-long drama surrounding the theft of 13 works from the Isabella Stewart Gardner Museum in Boston. In May, the museum board doubled, to $10 million, the reward for information leading to their return. But the offer expired Dec. 31, and no one has come forward.
Click here to view more Blade editorials | Check out the Behind The Editorial series
What steps the museum might take next to recover the works, valued at more than $500 million, is anyone's guess. However, speculation about the thieves' identities and the paintings' whereabouts is bound to continue. The museum calls the heist the "single largest property theft in the world."
Maybe the paintings will turn up one day in a dusty attic, discovered by someone with no idea of the riches he's found. Maybe they were destroyed long ago by thieves who got in over their heads and cared nothing about cultural treasures. Maybe, in a scenario reminiscent of the 1999 movie The Thomas Crown Affair, they're hanging in a tycoon's private gallery. The unanswered questions have helped to make the Gardner heist the most publicized art theft of recent times.
Early on March 18, 1990, two men posing as Boston policemen talked their way into the museum, tied up two security guards, and stole the 13 works — many of them storied paintings — in 81 minutes.
The haul included The Concert, one of a few dozen paintings attributed to Vermeer; Christ in the Storm on the Sea of Galilee, Rembrandt's only known seascape; other paintings by Rembrandt, Degas, and Manet; and, less valuable, the bronze eagle finial from a Napoleonic flag.
In bequeathing her museum to the public, Gardner, who died in 1924, decreed that the galleries must remain unchanged, with nothing ever added to or taken from the collection.The frames that held the stolen paintings remain on the walls, "symbols of hope," the museum says, "awaiting their return."
While the crime and fruitless investigations have captured the public's attention, the most salient points cannot be overlooked. Gardner left the museum as a gift to the public, and the thieves undercut her, robbing a generation of the opportunity to stand in awe before some of the world's greatest art. That is the greatest crime in this case.
Guidelines: Please keep your comments smart and civil. Don't attack other readers personally, and keep your language decent. Comments that violate these standards, or our privacy statement or visitor's agreement, are subject to being removed and commenters are subject to being banned. To post comments, you must be a registered user on toledoblade.com. To find out more, please visit the FAQ.