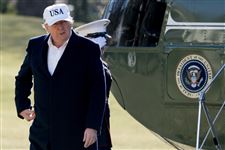 President Donald Trump recently criticized Pakistan in a tweet. It could signal a change in U.S.-Pakistan relations.
ASSOCIATED PRESS Enlarge
President Trump recently pointed out, in a tweet, that America has provided Pakistan some $33 billion in aid since 2002. It came largely as part of the United States' response to the 2001 9/​11 attacks on America. The President lamented what he considers to be inadequate Pakistani cooperation with the United States in counterterrorism and he threatened a cut-off of U.S. aid.
Pakistan, after a meeting of its National Security Council last week, responded that it considered Mr. Trump's comments in his New Year's Day tweet "completely incomprehensible" and of "no importance." It pledged to play a "constructive role" in counterterrorism efforts in the future.
The United States has foolishly given Pakistan more than 33 billion dollars in aid over the last 15 years, and they have given us nothing but lies & deceit, thinking of our leaders as fools. They give safe haven to the terrorists we hunt in Afghanistan, with little help. No more!

— Donald J. Trump (@realDonaldTrump) January 1, 2018
Currently, Pakistan permits the shipment, across Pakistan to Afghanistan, of almost all the materiel U.S. forces use in Afghanistan — a substantial form of assistance. It also provides to the Afghan government, and the United States, free use of drones in Pakistan for surveillance and, on occasion, attacks on enemies.
In August, the Trump Administration suspended $255 million in military aid to Pakistan. Upping the ante, the State Department, last week, froze almost all security assistance to the nation. In both cases, U.S. officials underlined that the money was not being eliminated from the budget, but held up until the government of Pakistan changes.
In addition, the State Department added Pakistan to a watch list for "severe violations of religious freedom," joining 10 other nations from Iran, to North Korea, to Saudi Arabia.
A close U.S. relationship with Pakistan is longstanding, including the facilitating role Pakistan played when President Richard Nixon and Secretary of State Henry Kissinger opened the door to U.S.-China relations. But now it has been suggested that Mr. Trump's government is seeking to switch America's close alliance in South Asia from Pakistan to its rival, India.
In the meantime, U.S. relations with Pakistan are rocky and getting worse. And a possible military coup d'etat always lurks on the horizon.
Click here to view more Blade editorials | Check out the Behind The Editorial series
Mr. Trump is right that, in spite of American aid, Pakistan sometimes doesn't do what we want it to do. The United States can, obviously, cut aid off entirely. But the U.S. should do so only after a careful, comprehensive consideration of all the elements of the relationship.
There are many reasons for the United States to fight to keep this alliance. One is our historic ties to Pakistan. Another is that our nation does not have an overabundance of allies in the world, and this is even more true in Pakistan's part of the world.
Guidelines: Please keep your comments smart and civil. Don't attack other readers personally, and keep your language decent. Comments that violate these standards, or our privacy statement or visitor's agreement, are subject to being removed and commenters are subject to being banned. To post comments, you must be a registered user on toledoblade.com. To find out more, please visit the FAQ.