EDITORIAL
With cameras, on the record
1/12/2018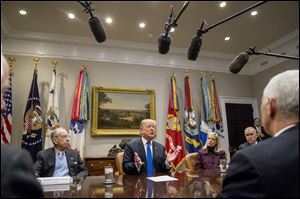 President Trump holds a meeting on immigration reform early this week.
Since we have been told what the President allegedly said in a private meeting about immigration, maybe what he said in a public meeting on the same subject, when the cameras were running, on the record, matters too.
In a meeting with congressional leaders last week, the President said:
"But I feel that having the Democrats in with us is absolutely vital because [an immigration bill] should be bipartisan. It should be a bill of love. Truly, it should be a bill of love, and we can do that.
Click here to view more Blade editorials | Check out the Behind The Editorial series
"But it also has to be a bill where we're able to secure our border.
"… So, in order to secure it, we need a wall ...
"Second, it has to be a bill to end chain migration ...
"And the other is — cancel the lottery program. They call it a visa lottery. I just call it lottery."
He also said some surprising things about how Washington works:
"Our system lends itself to not getting things done … it lends itself to hostility and anger … the way it's set up will never bring people together.
"Our system is designed right now that everybody should hate each other. And we can't have that ...
"No, the country is doing very well in so many ways, but there's such divisiveness, such division. And I really believe we can solve that. I think this system is a very bad system in terms of getting together."
Finally: "If we do this properly, DACA, you're not so far away from comprehensive immigration reform. And if you want to take that further step, I'll take the heat. I don't care. I'll take all the heat you want to give me... My whole life has been heat. I like heat in a certain way ..."
That does not sound like a nutcase or a racist. It sounds like someone who will work with his party and the other party to get something done — if we can focus on DACA legislation, rather than labeling and demonizing the President.
Follow @BladeOpinion on Twitter.