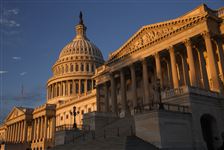 The morning sun illuminates the U.S. Capitol in Washington.
ASSOCIATED PRESS Enlarge
Lawmakers who hammered out a bipartisan reform of the way Congress handles sexual assault complaints have been patting themselves on the back for bringing accountability and transparency to the process.
They should rest their arms.
Click here to view more Blade editorials | Check out the Behind The Editorial series
A bill passed by the House of Representatives last week and now headed for the Senate would make the complaint process a little easier for victims to navigate and it would require elected officials to use their own money when they make financial settlements in such cases. Good grief. That's not reform, it's a limit on indecency.
The bill also mandates training and anti-harassment policies for Congressional offices.
The House also passed new rules that forbid romantic relationships between elected officials and their staffers. Yeah, right.
None of this is bad, or even trifling, but none of it will change the culture on the Hill.
And while the bill will require disclosure of any future settlements related to misconduct complaints, it does not require the release of information about any of the past settlements paid.
Rep. Barbara Comstock (R., Va.), says that is not good enough. She's right.
That's $15 million in taxpayer money that went up in smoke — to cover up the misdeeds of people sent to Washington to do the people's business.
The cover-up remains, and it is revolting.
Follow @BladeOpinion on Twitter.
Guidelines: Please keep your comments smart and civil. Don't attack other readers personally, and keep your language decent. Comments that violate these standards, or our privacy statement or visitor's agreement, are subject to being removed and commenters are subject to being banned. To post comments, you must be a registered user on toledoblade.com. To find out more, please visit the FAQ.