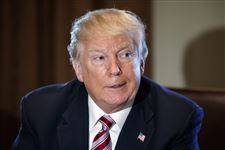 President Trump must provide poor cities, like Toledo, with a means by which they can improve their infrastructure.
ASSOCIATED PRESS Enlarge
Budgets, we were all taught long ago in government class, are the ways executives set priorities and express values. And President Trump has expressed his values in the proposed budget he has released: He wants a strong military and he admires first responders; he wants to build The Wall and he sincerely wants to rebuild the nation's infrastructure.
Click here to view more Blade editorials | Check out the Behind The Editorial series
Making infrastructure a priority is most welcome. Everyone knows we need to rebuild the country's roads, highways, bridges, railroads, airports, and public buildings. The politicians have been talking about it since Bill Clinton ran for president, promising such a program, in 1992. President Barack Obama made a half-hearted, disorganized attempt at rebuilding infrastructure in his first term, and a lot of money was wasted.
This time, let's make sure stuff actually gets done.
And given the lack of flexibility and transparency of the federal government, it is a decent idea for the states and localities to carry the ball.
What is not a good idea is for dollars for infrastructure rebuilding to be gained chiefly by the "leveraging" efforts of communities, and even businesses.
To leverage usually means to borrow against an asset. In this case, a better term would be "matching." The plan is to grow $200 billion in federal investment into $1.5 trillion by adding to monies put up by local government or private entities. The New York Times tells us how that will work: "The ability to find funding sources outside the federal government will be the most important yardstick, accounting for 70 percent of the formula for choosing infrastructure projects."
Thus the projects the government chooses to help fund will be the ones where there is already some funding. If the city or corporation comes up with a project and money for it, the feds will take a look.
What this really means is that those who already have will get more. And those most in need will get little, or nothing.
Leveraging of this kind does not work, it cannot work, for poor communities. The three Cs — Cleveland, Columbus, and Cincinnati — are in a position to leverage. The towns along the Main Line in suburban Philadelphia will be able to leverage. But the Mon Valley, in Pennsylvania, where steel was king and the recovery never came, and eds and meds never appeared, will get zip.
Hospitals and country clubs will get exits with this approach. But Ohio towns like Coshocton, Fostoria, Chillicothe, Portsmouth, and Circleville will get a pat on the back. Pennsylvania towns like Johnstown are in no position to leverage. West Virginia towns like Elkins cannot leverage.
Ann Arbor can leverage; Flint cannot.
Does that seem rational, or right?
Toledo, one of the poorest cities in the nation, will not be able to leverage much infrastructure repair, even if the ratio is for four or five dollars to one. We do not have enough money for basic maintenance of the city now. It is said that it would cost $1.3 billion to totally fix all our streets. Where would the city find $300 million-plus?
And Youngstown, Gary, and East St. Louis would all have even less. So they will left behind in the great rebuilding of the nation.
This is ironic, because if one drove the back roads of Ohio, or rural Pennsylvania, or Kentucky, or Indiana a little more than a year ago, one saw that they were thick with Trump-Pence yard signs.
The president needs to remember who voted for him.
Can you imagine Franklin Roosevelt saying in 1933 and 1936: We will create the Tennessee Valley, and a Rural Electrification Program, but only if the poor people of Tennessee can leverage it?
They never could have done so.
The GOP loves this leveraging concept. But leveraged infrastructure rebuilding will never reach America's poorest communities, and therefore it will never reach the people who made the difference for Donald Trump.
It is precisely the communities who cannot leverage infrastructure rebuilding who need it most. It is the poor cities and towns of Middle America who should get infrastructure dollars and projects first.
It is the citizens of those communities, the ones who are hurting and have long been hurting — indeed they have been abandoned for a generation — who came out for Donald Trump in 2016, gave him his electoral edge, and made him the president. That should be leverage enough for them.
Follow @BladeOpinion on Twitter.
Guidelines: Please keep your comments smart and civil. Don't attack other readers personally, and keep your language decent. Comments that violate these standards, or our privacy statement or visitor's agreement, are subject to being removed and commenters are subject to being banned. To post comments, you must be a registered user on toledoblade.com. To find out more, please visit the FAQ.