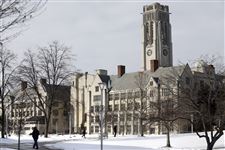 Adopting a policy ensuring open expression, debate, and discussion on campus should be a no-brainer for the University of Toledo, pictured, and Bowling Green State University.
The Blade/Katie Rausch
Enlarge | Buy This Image
Several weeks ago, the Foundation for Individual Rights in Education (FIRE) published a list of 34 colleges or universities that have adopted or endorsed the "Chicago Statement."
The Chicago Statement is shorthand for a 2015 document released by the University of Chicago called the "Report on Free Expression." In it, the University of Chicago rebukes other academic institutions that limit free speech and coddle the minds of their students.
See a list of colleges that have adopted the Chicago Statement
The report affirms the University of Chicago's "fundamental commitment is to the principle that debate or deliberation may not be suppressed because the ideas put forth are thought by some or even by most members of the University community to be offensive, unwise, immoral, or wrong-headed."
It concludes with a commitment to protect freedom of expression at the university "when others attempt to restrict it."
Since its publication in 2015, 34 other collegiate institutions have formally adopted or endorsed the Chicago Statement as official policy. This would be promising if not for the fact that the United States is currently home to more than 1,600 institutions of higher learning. In other words, only about 2 percent of the nation's colleges have deemed it worthwhile to offer a full-throated support of freedom of expression.
In Ohio, three colleges have endorsed the Chicago Statement: Ashland University, in Ashland, Denison University, in Granville, and Kenyon College, in Gambier. At least two more colleges would be wise to join that list: Bowling Green State University and the University of Toledo.
FIRE conducts an annual report on the state of free speech at individual campuses across the country. A "green rating" means the school's policies nominally protect free speech. A "yellow" rating indicates an institution has "at least one ambiguous policy that too easily encourages administrative abuse and arbitrary application," while a "red" rating indicates a school "has at least one policy that both clearly and substantially restricts freedom of speech."
In its 2017 report, BGSU and UT both received "yellow" ratings. Bowling Green has received the yellow rating on several occasions, while UT had previously received the red rating.
Click here to view more Blade editorials | Check out the Behind The Editorial series
With the Ohio General Assembly's possible passage of a Campus Free Speech Act still looming over the state's academic institutions, Ohio's colleges and universities should be searching for ways to prove they will defend the right to free speech and open debate on their campuses without governmental intervention.
The Chicago Statement is far from a panacea, but its adoption does allow any school to prove it has a vested interest in promoting free and open expression on its campus. "Protecting" students from difficult concepts and creating ideological echo chambers has proven to have a negative impact on the academic environment. It must be stopped if we wish to see growth and intellectual development in our students.
If BGSU and UT, both of which have claimed a commitment to free speech through various spokespeople over the years, wish to substantiate their dedication to promoting free and open expression on their campuses, they would be wise to adopt the Chicago Statement.
Follow @BladeOpinion on Twitter.
Guidelines: Please keep your comments smart and civil. Don't attack other readers personally, and keep your language decent. Comments that violate these standards, or our privacy statement or visitor's agreement, are subject to being removed and commenters are subject to being banned. To post comments, you must be a registered user on toledoblade.com. To find out more, please visit the FAQ.