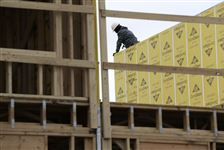 The Labor Department reported that U.S. employers added 313,000 jobs in February, the most in any month since July, 2016, and drawing hundreds of thousands of people into the job market.
ASSOCIATED PRESS Enlarge
Competing for Americans' attention in the midst of a breakthrough with North Korea, the cast of characters in the Mueller investigation, and events preliminary to the 2018 congressional elections is some cheering economic news: the excellent February job creation numbers. The total is 313,000 new jobs.
February's job creation report, announced by the Department of Labor last week, was tremendous, in what it recorded and in what it suggested is yet possible.
Click here to view more Blade editorials | Check out the Behind The Editorial series
The economy's performance last month is to the credit of the leadership of President Donald Trump and his presidency's first-year impact on the economy. (Presidents get blame or credit for the economy, no matter what their own resonsibility is.) It's complicated. But the economy does seem to have been finally unleashed for growth.
Clearly deregulation has played a role. So has the new tax bill, the full impact of which will begin to reveal itself as Americans complete their work on their 1040s, due April 15. Will they rejoice and take their companions out to dinner? Or will they weep and curse the politicians who passed the bill for having misled them into thinking it would save them money?
If infrastructure investment actually happens, and happens in a way that benefits not just wealthy cities but poor cities and economically bereft small towns, will this boost our economy even more? It should — if it happens.
Wall Street is wary of the president's unapologetic protectionist policies on steel and aluminum. Will the market adjust?
We are sailing into uncharted waters. But in the here and now, February's job report is wind in the nation's sails.
Follow @BladeOpinion on Twitter.
Guidelines: Please keep your comments smart and civil. Don't attack other readers personally, and keep your language decent. Comments that violate these standards, or our privacy statement or visitor's agreement, are subject to being removed and commenters are subject to being banned. To post comments, you must be a registered user on toledoblade.com. To find out more, please visit the FAQ.