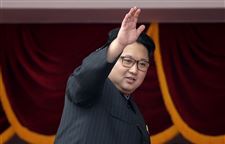 President Trump and North Korean dictator Kim Jong Un have agreed to meet face-to-face for talks.
ASSOCIATED PRESS Enlarge
South Korea announced last week that North Korean leader Kim Jong Un is willing to meet with President Donald Trump. Then Mr. Trump said he is willing to meet with Mr. Kim. The president said he wants the meeting to be achieved before May 1.
Anyone who would like to see a lasting peace established on the Korean peninsula can only say: By all means, try talking.
Click here to view more Blade editorials | Check out the Behind The Editorial series
Of course, nothing about North Korea is straightforward. Last week, White House spokeswoman Sarah Sanders said that "this meeting won't take place without concrete actions that match the promises that have been made by North Korea." A few hours later, another White House official told the Wall Street Journal that "the invitation has been extended and accepted, and that stands." Expect more twists and turns ahead.
But even the proposal of a meeting with the North Korean leader is a breakthrough. Both leaders and South Korean President Moon Jae-in should be congratulated on their willingness to pursue dialogue, as opposed to war, between the two countries and their allies — war that would also almost inevitably affect neighboring China, Japan and even Russia, which has a short border with North Korea.
There will be many unavoidable, sensitive topics on the table. One is North Korea's ambitious nuclear-armed missile program. A second is America's ongoing, active program of joint military exercises with South Korea. A third is North Korea's weak economic situation, which in part drives it to seek attention through its weapons programs, made worse by the American-led sanctions program against it. A fourth might be the ongoing North Korean program of sales of arms to countries like Egypt.
An underlying but critical theme is the desire of Koreans, North and South, to see the eventual reunification of their ancient nation, divided as part of the Cold War between American and communist Russian and Chinese spheres of influence in 1945, at the end of World War II. The division was fused by the Korean War, which took the lives of 33,686 Americans, among others, on the battlefield.
The world cannot expect all of this, maybe none of this, to be resolved in a first meeting between Mr. Kim and Mr. Trump. At this point, calling it a "meeting" is an important distinction.
William Perry, the defense secretary under Bill Clinton who is a leading expert on the nuclear threat, has greeted the prospects of talks with North Korea with cautious optimism, calling it "a major improvement over diplomacy that consisted of shouting insults at each other." It will be highly useful for both Mr. Trump and Mr. Kim to get past the exchange of nicknames and vivid language that took place prior to the Olympics.
If the North Koreans have changed, and this endeavor is in fact in quest of peace, cooperation and a reduction in the chances of war — as opposed to a propaganda ploy — they, too, need to prepare carefully. The search of both sides should be for common ground, not an attempt to score rhetorical points.
It is vital to remember that the Korean people, the South as well as the North Koreans, rather than the Americans, have the most to gain and the most to lose from the success or failure of the coming Kim-Trump talks and what follows.
Follow @BladeOpinion on Twitter.
Guidelines: Please keep your comments smart and civil. Don't attack other readers personally, and keep your language decent. Comments that violate these standards, or our privacy statement or visitor's agreement, are subject to being removed and commenters are subject to being banned. To post comments, you must be a registered user on toledoblade.com. To find out more, please visit the FAQ.