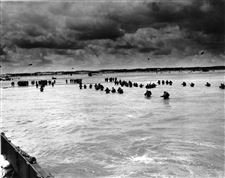 U.S. reinforcements wade through the surf as they land at Normandy in the days following the Allies' D-Day invasion of France in June, 1944.
ASSOCIATED PRESS Enlarge
D-Day, the land, sea and air invasion that altered the course of World War II in Europe, occurred 74 years ago this past Wednesday. It's important to continue commemorating D-Day, Pearl Harbor, and other battles of the war that defeated fascism, propelled America to superpower status, and reordered the geopolitical and economic landscape of much of the world.
But how best to do that?
Click here to view more Blade editorials

Young people today show a lamentable lack of interest in history, and WWII veterans, whose firsthand accounts brought the past to life for D-Day's big 50th anniversary in 1994, are dying at the rate of 372 a day. They won't be telling their stories or appearing in parades much longer. As of last year, according to the National WWII Museum, only 558,000 of the war's 16 million American veterans are alive.
But the clever e-enactment of D-Day on social media this week by two Air Force units offers a new way of recalling the war's valor and engaging those of us who continue to benefit from it.
The 437th Airlift Wing and 315th Airlift Wing, both based in Charleston, S.C., are successor units to troop carrier groups that released gliders, paratroopers, and supplies over Normandy. From Tuesday evening through early Wednesday, the period corresponding to the invasion, the 437th and 315th used Facebook and Twitter posts to tell the story of D-Day through the eyes of their airmen as though events were unfolding in real time.
"Looks like the 315th Troop Carrier Group Commander, Col. Hamish McLelland, will lead us out night," the 315th posted at 9 p.m. Tuesday. "Great to see the boss taking us out."
"Only minutes to go!" the 437th posted at 1:45 a.m. Wednesday. "We are all lined up and loaded, all 52 C-47s with a CG4A glider attached. ... In all, we are transporting 220 paratroopers, 27 jeeps, 16 artillery pieces and 20 bundles of supplies."
"We just crossed over the coast of Normandy, flying at about 1,500 feet," the 437th reported at 3 a.m. "The tracers and flak are everywhere!"
0300- We just crossed over the coast of Normandy, flying at about 1,500 feet. The tracers and flak are everywhere! About 22 miles to go and we are now dropping down to our glider release altidude of 500 feet! We're ready. #DDayRemembered pic.twitter.com/AqyMrV3HkB

— Joint Base Charleston (@TeamCharleston) June 6, 2018
All of the 315th's planes escaped the war zone safely, though two had to make emergency landings. The 437th was not as lucky; two of its planes were lost and two others went missing.
Current members of the 437th and 315th created the posts using the personal accounts of airmen who took part in D-Day, the official histories of their units and other sources. They rounded out the presentation with excellent maps and with photos taken from the air and ground before, during and after the invasion.
"It's never been done before," said Maj. Wayne Capps, chief of public affairs for the 315th, who developed the idea. He said he was inspired to tell the story via social media because it's an integral part of his life.
The exercise succeeded on multiple fronts. It harnessed the power of social media to reach a tech-savvy and far-flung audience. It provided a template for the future teaching of military history, and it combined words and images in a spellbinding format that made readers virtual witnesses to one of the most remarkable events of the 20th century.
Guidelines: Please keep your comments smart and civil. Don't attack other readers personally, and keep your language decent. Comments that violate these standards, or our privacy statement or visitor's agreement, are subject to being removed and commenters are subject to being banned. To post comments, you must be a registered user on toledoblade.com. To find out more, please visit the FAQ.