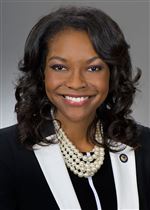 Ohio Rep. Emilia Sykes (D., Akron) says she and other black legislators have been subjected to extra scrutinty from Statehouse security.
As if things in Ohio state government couldn't get any seedier, you can now add accusations of racial profiling to the list.
According to a recent report by the Cincinnati Enquirer, State Rep. Emilia Sykes (D., Akron), a 32-year-old black woman who has represented her district for more than three years, says she has received additional scrutiny when entering government buildings in Columbus.
Click here to view more Blade editorials

Ms. Sykes says that on one occasion last year, she was heading into the Statehouse with a colleague, a 65-year-old white man and long-time legislator, when she was informed that security needed to search her bag. This procedure is not protocol; lawmakers are only required to show their badge for access to government facilities. Her colleague was not searched.
When Ms. Sykes' colleague informed the security officers that she was a legislator, Ms. Sykes was told by an officer: "You don't look like a legislator."
The officer later clarified that he meant that Ms. Sykes looked too young. Ms. Sykes, per her own admission, is not even the youngest member of the Ohio General Assembly.
Ms. Sykes' experiences in this instance are not unique. In fact, Ms. Sykes has been stopped or subjected to additional scrutiny from security at the Statehouse or Riffe Center (a nearby building that houses more government offices) on several occasions, as have other black legislators such as State Rep. Alicia Reece (D., Roselawn).
According to Ms. Reece, she once left her badge in her office. An aide took the badge to Ms. Reece, but security still questioned its authenticity — in spite of the fact that Ms. Reece, who has been a state legislator since 2010 and previously led the Ohio Black Legislative Caucus, had her picture on the badge.
The Ohio State Highway Patrol, which oversees security at the Statehouse, recently held a meeting with Ms. Sykes to discuss these incidents. Representatives from the Ohio Department of Administrative Services, which oversees security for the Riffe Center, were not present.
Ms. Sykes said that she understands that security is important and that searches are a discretionary choice.
But, Ms. Sykes noted, "Whenever there's discretion, people like me get stopped."
These incidents inspired Ms. Sykes to report her concerns to then-Ohio House Speaker Cliff Rosenberger. But Mr. Rosenberger resigned in April amid an FBI investigation.
Ohio House spokesperson Brad Miller has promised that Ms. Sykes' concerns will be "taken very seriously."
They must be.
Bureaucratic scandal and corruption — the sort that cost Mr. Rosenberger his job — is a disgrace to the people of Ohio and deserves to be investigated thoroughly by the authorities.
But it is absolutely shameful to have duly elected, veteran, black legislators, like Ms. Sykes and Ms. Reece, subjected to security scrutiny their white colleagues do not receive. This sort of unprofessional behavior is unacceptable at the Statehouse.
If the powers that be in Columbus wish to avoid losing the goodwill of nearly everyone in the state, they would be wise to address the complaints of Ms. Sykes and her colleagues, and quickly.
Guidelines: Please keep your comments smart and civil. Don't attack other readers personally, and keep your language decent. Comments that violate these standards, or our privacy statement or visitor's agreement, are subject to being removed and commenters are subject to being banned. To post comments, you must be a registered user on toledoblade.com. To find out more, please visit the FAQ.