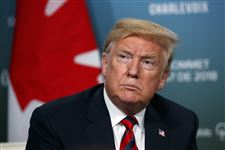 President Donald Trump listens to a question during the G-7 summit in Charlevoix, Canada.
ASSOCIATED PRESS Enlarge
President Trump has discovered the pardoning power that is given to him in the Constitution — with a vengeance. He's making use of it, some suspect, because he now identifies with victims of overly zealous prosecutions and he wants to arouse public distrust in such prosecutions.
That's not a bad instinct, or cause.
Click here to view more Blade editorials

Two of Mr. Trump's recent pardons were obviously political, but justifiable — those for former vice presidential adviser Lewis "Scooter" Libby and for conservative writer Dinesh D'Souza.
Pardoning professional fighter Jack Johnson, a prosecution that transpired more than a century ago, was long overdue. Justice was surely done in this case.
Commuting the prison sentence of 63-year-old Alice Johnson has also struck a just chord.
With Mr. Johnson and Ms. Johnson — no relation — Mr. Trump did what President Obama, inexplicably, refused to do.
The Founders created the pardoning power of the President, not to be used as a monarch might — dispensing favors at the royal whim — but to right wrongs. The President's pardoning power should be exercised judiciously and with care and after a vetting process by the Department of Justice.
As for whether a president has the power to pardon himself, he does. The Constitution does not limit the power. But the use of it in this way would be politically suicidal.
Where Mr. Trump threatens to go off the rails with the pardon power is with former Illinois Gov. Rod Blagojevich and domestic guru Martha Stewart. These are celebrity cases, not instances of grave injustice.
In Mr. Trump's view, Blagojevich was engaging in little more than ordinary political bargaining when he sought payback for his appointment to the U.S. Senate. Stewart was convicted for lying to prosecutors because they couldn't convict her for insider trading.
What invests all of the cases handled so far with relevance is that there is more than a whiff of prosecutorial excess in the air coming from Robert Mueller's investigation into possible Russia collusion. And there is a whiff of the FBI misusing legitimate functions to surveil a political campaign.
The President is using his pardoning power to shine a light on a real danger — overly aggressive prosecution and overly punitive sentences. It just so happens, and luckily for Mr. Libby, Mr. D'Souza, and Ms. Johnson, that his interest in the topic is personal. That's okay, most of politics, and even policy, is personal.
Justice was done in the case of both Johnsons. And there are thousands more like Alice Johnson in our prisons. It's good that the President has discovered them.
Let's hope he keeps finding people like Ms. Johnson and giving their lives back to them.
Guidelines: Please keep your comments smart and civil. Don't attack other readers personally, and keep your language decent. Comments that violate these standards, or our privacy statement or visitor's agreement, are subject to being removed and commenters are subject to being banned. To post comments, you must be a registered user on toledoblade.com. To find out more, please visit the FAQ.