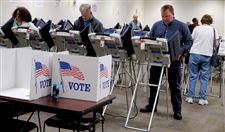 The U.S. Supreme Court ruled on Tuesday that an Ohio law mandating the purging of inactive voters from voting rolls is legal.
The Blade/Lori King
Enlarge | Buy This Image
After meticulously analyzing two federal voting laws —the National Voter Registration Act of 1993 and the Help America Vote Act of 2002 — a majority of the U.S. Supreme Court on Monday upheld Ohio's periodic updating of the voter rolls.
The Court found that the state was not suppressing voting and that the state was not asking too much of voters: Ohio eliminates from the rolls voters who have refused to participate in voting, or re-registering to vote, despite many opportunities, over a six-year period.
Click here to view more Blade editorials

Under Ohio's practice, citizens can lose their registration if they, first, fail to vote for two years; then fail to return a preaddressed, prestamped postcard; and then fail to vote, at least one time, over the next four years.
That's a six-year span of failing to exercise the franchise – failing to take seriously what is not only a right but a duty.
The state is not asking too much.
The high court's dissenters held that the sole purpose of voting law is to assure that voters should not be disenfranchised simply for failing to vote. But they are not really disenfranchised under Ohio law. They are merely forced to re-register, which is quickly and easily done.
Moreover, a second vital goal is to protect the integrity of the overall vote, which means keeping voting rolls accurate and current. The rolls must be occasionally cleaned so that the dead do not vote and people do not vote twice. That is a vital public good: the integrity of the voting system.
Access to the ballot is essential to democracy, of course, especially given voter suppression in the South for the better part of a century after the Civil War and during two recent presidential campaigns in Florida and Ohio.
But asking people to take care of their franchise, to use it and renew it, is not onerous. It is good government and a matter of encouraging people, Ohioans in this case, to take citizenship seriously.
The NAACP reacted to the decision in a positive and admirable way. It said it would work hard get out the vote and to encourage citizens to retain their voting rights by using them. Our forefathers and many of our brethren died to protect this right. It is not asking too much of the rest of us to return a postcard.
Guidelines: Please keep your comments smart and civil. Don't attack other readers personally, and keep your language decent. Comments that violate these standards, or our privacy statement or visitor's agreement, are subject to being removed and commenters are subject to being banned. To post comments, you must be a registered user on toledoblade.com. To find out more, please visit the FAQ.