Editor's note: This story has been updated to include comment from State Rep. Bill Reineke (R., Tiffin).
COLUMBUS — Democrats and progressive activists continued to ramp up criticism of both a now-defunct virtual charter school and Republican leaders.
Innovation Ohio on Wednesday released a breakdown that shows how much each Ohio school district transferred to the Electronic Classroom of Tomorrow in the past six years, showing districts from Lucas and Wood counties transferred close to $16.5 million to the charter school since 2012. Overall, school districts throughout the state transferred about $590 million during those six years.
The state eventually ordered the now-shuttered online charter school to repay $79 million in per-pupil subsidies after it determined the school could not prove enough students had been logged into the system long enough to qualify as full-time students.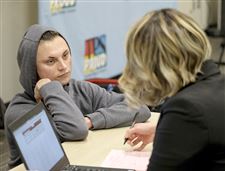 Devon Rodriguez, 19, checks in with Carrie Kolodziejczyk, Director of Student Information and Reporting for TPS, during an information night for the parents of ECOT students who were displaced after the online charter school abruptly closed midway through the year.
THE BLADE
Enlarge | Buy This Image
Read: Auditor seeks possible criminal charges for ECOT
Members of the progressive group and school district officials joined last week for a press conference to attack for-profit charter school operators and their lack of state oversight.
Under Ohio's educational funding formula, school districts receive state funding aid for each student enrolled. When a student within a school district's boundaries attends a charter school, a set amount of funds is transferred from that school district to the charter school.
Bob Applebaum, treasurer of the Maple Heights school district, said last week that public schools should not be run like for-profit businesses, as such schools have less incentive to ensure student success. Public school officials for years have argued that some charter schools accept students for the state aid, then kick difficult students out early in the year.
"They basically have used our students for what I call 'pawns for profit,'" Mr. Applebaum said.
The charter school's acceptance of funds for students who didn't attend the district should be considered theft, he said.
Kevin Dalton, president of the Toledo Federation of Teachers, said that the money transferred to ECOT should have stayed with local school districts, and he called for those funds to be recouped.
"ECOT knew all along what they were doing was incredulous," he said.
Steve Dyer, education policy fellow with Innovation Ohio, said only a handful of districts did not have students attending ECOT, citing Put-in-Bay as one of them.
Toledo Public Schools transferred about $9.5 million to ECOT over that time period — the sixth most in the state — Innovation Ohio said. Ryan Stechschulte, treasurer of TPS, confirmed the Toledo figure. Toledo-based Educational Services Center of Lake Erie West was ECOT's sponsor.
Toledo Public Schools was not alone in the area in transferring funds to ECOT. Lucas County's school districts sent nearly $14 million to the virtual charter school since 2012, with Washington Local second behind TPS at nearly $2 million.
George Wood, superintendent of the Federal Hocking district, said that when ECOT closed its doors, he learned a number of students within his district who were supposed to be attending the charter school hadn't, yet ECOT was still receiving funds for them.
"They literally weren't going to school," he said.
State Rep. Andrew Brenner (R., Powell), chairman of the House Education Committee, questioned the validity of Innovation Ohio's $591 million figure, arguing that the money was used to educate students who didn't attend their home districts.
"If the student is not in the school district, why would the money go to the school district?" Brenner said. "There should be no money owed to anybody. The ECOT teachers would tell me that, yes, they in fact were teaching students."
Part of last week's push was to localize the ECOT scandal, which has largely been focused on Columbus. Depending on state and local revenue levels for a district, some funds transferred to charter schools are also local funds generated through property tax levies.
Democrats have jumped on issue during the 2018 campaign, arguing that a number of Republicans failed to properly oversee charter schools while accepting campaign donations from their leaders.
David Pepper, the Ohio Democratic Party's chairman, railed on Twitter on Thursday against Republican officials and candidates for office who have taken money from ECOT's founder Bill Lager, and whom he believes failed to provide proper oversight over charter schools.
To the politicians who created this ECOT mess:

Was it worth it?

Thousands of kids having their education ruined?

Millions of $ leaving our public schools to fund a get-rich scam?

All so you could siphon some of those $ into your campaign coffers?

If nothing else, apologize https://t.co/ZsK3POJoiu

— David Pepper (@DavidPepper) June 7, 2018
A number of northwest Ohio public officials — almost all Republicans — took campaign donations from Mr. Lager or others affiliated with ECOT. A pair of former state lawmakers, former state Rep. Barbara Sears (R., Monclova Township) and former state Sen. Cliff Hite (R., Findlay), were the largest recipients, receiving $51,400 and $38,499, respectively.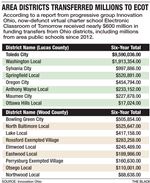 THE BLADE
Enlarge | Buy This Image
While Mr. Hite left politics when he resigned in October following the filing of a sexual-harassment complaint against him, Ms. Sears became the state's director of the Department of Medicaid in December, 2016.
Ms. Sears said she had no comment regarding ECOT, but said that she had virtually nothing left in her campaign account when asked if she planned to return the donations.
"Campaign contributions to me did not influence my vote," she said.
State Sen. Randy Gardner (R., Bowling Green), who received $8,650 from ECOT-related individuals since 1997, according to Innovation Ohio, noted the organization's broad view of who was related to ECOT, as some of the funds contributed to him were from Lake Erie West ESC Superintendent Sandra Frisch. He also hadn't received donations from Mr. Lang in several years.
While he understands the scrutiny, he said he'd received more donations from traditional public educators.
"I've always been for strong accountability for every kind of school in Ohio," he said.
State Rep. Derek Merrin (R., Monclova Township) received $2,866.67, and said he has not considered returning the funds. He said he doesn't know enough about ECOT's practices to render judgement on the school, and instead focused on the loss of a school option for parents and students.
"I am a strong supporter of school choice, and I was sad to see ECOT close in the middle of the year," he said.
State Rep. Bill Reineke (R., Tiffin) who received $12,155.52, said, "In 2016, I helped to author and pass the strongest reforms to Ohio's charter schools in more than a decade, which enhanced transparency and accountability in our state's education system. The work certainly continues, but I'm committed to improving educational outcomes for all Ohio students."
Messages left for state Sen. Robert McColley (R., Napoleon), who received $2,783.33, and state Rep. Robert Sprague (R., Findlay) who received $2,716.66, were not returned Friday. State Rep. Michael Ashford (D., Toledo) received $200, according to Innovation Ohio's figures.
Erie County Commissioner Matt Old, who was a teacher for ECOT, said he received $2,500 from Mr. Lager.
"I think those people who have returned [contributions from Mr. Lager] would argue that ECOT had business in front of them, but they do not have any business in front of Erie County," he said when asked if he would return the money.
The Columbus Dispatch contributed to this report.
Guidelines: Please keep your comments smart and civil. Don't attack other readers personally, and keep your language decent. Comments that violate these standards, or our privacy statement or visitor's agreement, are subject to being removed and commenters are subject to being banned. To post comments, you must be a registered user on toledoblade.com. To find out more, please visit the FAQ.