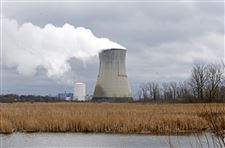 FirstEnergy Corp.'s Davis-Besse Nuclear Power Station in Oak Harbor.
ASSOCIATED PRESS Enlarge
The Nuclear Regulatory Commission has announced a new administrator for its Chicago-area regional office that oversees 23 operating reactors at 15 Midwestern sites, including FirstEnergy Corp.'s Davis-Besse nuclear plant in Ottawa County and DTE Energy's Fermi 2 nuclear plant in Monroe County.
K. Steven West joined the NRC in 1985 as a fire protection engineer before he was moved into various management positions, most recently acting director for the Office of Nuclear Safety and Incident Response.
He succeeds Cynthia D. Pederson as head of the NRC's Region III office, which has jurisdiction over Ohio, Michigan, and six other states. Ms. Pederson retired from the agency on Dec. 30.
The NRC's Midwest regional office is southwest of Chicago in Lisle, Ill.
Guidelines: Please keep your comments smart and civil. Don't attack other readers personally, and keep your language decent. Comments that violate these standards, or our privacy statement or visitor's agreement, are subject to being removed and commenters are subject to being banned. To post comments, you must be a registered user on toledoblade.com. To find out more, please visit the FAQ.