While the issue of cultural appropriation has simmered in the food world for generations, it was really brought to the front burner when culinary historian Michael Twitty addressed Southern cooking maven Paula Deen in an open letter on his blog, Afroculinaria (afroculinaria.com), in 2013.
He didn't focus on her use of the N-word, which she'd admitted to in a deposition for a subsequently dismissed lawsuit alleging an environment of harassment in one of her restaurants. Rather, Mr. Twitty, author of The Cooking Gene: A Journey Through African American Culinary History in the Old South, felt the career-compromising uproar over that offense was a distraction from a far more egregious issue: the "systemic racism" of "culinary injustice," he wrote, in which "Southerners take credit for things that enslaved Africans and their descendants played key roles in innovating."
"I like to call it 'cultural plagiarism,'" said Angela Siner, director of the Africana Studies program at the University of Toledo. It's "taking somebody else's idea — cuisine, in this respect — and not giving them credit."
She said, "It is a form of exploitation, in that the groups being taken from are those who are marginalized." Through cultural — in this case, culinary — appropriation, "you take away the impact, the import" of African-Americans' significant contributions.
Nashville Hot Chicken is an infamous example. It was created in the 1930s by the betrayed girlfriend of a man named Thornton Prince in an attempt to punish him for his infidelities. But he enjoyed the fiery fried food so much that he worked to replicate it after she left him. He began selling it at Prince's Hot Chicken Shack, which is still run by family members, to a primarily African-American customer base.
In 2012, Hattie B's Hot Chicken opened in Nashville and immediately grew successful under executive chef John Lasater, who is white. Four years later, George Embiricos wrote, in a story for Food Republic (foodrepublic.com), a site developed by Ethiopian-Swedish celebrity chef Marcus Samuelsson and his colleagues, that while Mr. Prince "may have created hot chicken ... Hattie B's has made hot chicken cool." KFC even introduced a version of it.
Writer Betsy Phillips didn't mince words when taking on the subsequent controversy in an essay for Nashville Scene (nashvillescene.com): "There's not a black art form, food included, that by this point hasn't been popularized by white people and then the popularized version celebrated by white media like white people invented it, or at least, perfected it."
Kush is another example of culinary appropriation. It was a "scramble made from the basic elements of the antebellum ration system," Mr. Twitty wrote in an essay for the site Munchies (munchies.vice.com): "salt pork, corn or cornmeal, salt, and other staples as slaveholders saw fit."
Kusha (before it was shortened) was a variant of the word couscous, a food that had been brought by North African Muslims to West Africa. In the United States, the corn-based variation "spread from the enslaved person's quarters outward to the Big House and the kitchens of whites high and low," wrote Mr. Twitty.
"The fact is," he continued, "that enslaved people's hands crafted the most popular American stuffing out of old cornbread."
And coconut cake, too, "is definitely part of the equation," said Ms. Siner.
Southern Living magazine, in offering one of numerous recipes for it, has described it this way: "White as a Sunday glove, coconut is the doyenne of Southern layer cakes, a masterpiece of home cookery that has crowned dining room sideboards for more than a hundred years."
A product of the creativity and skill of those who were enslaved, it required "a knowledge of new ingredients like coconut" and was "very labor-intensive," said Anne Byrn, author of American Cake, in an interview with NPR's The Salt. "Egg whites had to be whisked" and "the coconut had to be cracked, the meat extracted and shredded."
After leaveners and equipment improved, though — baking powder was developed, as were mixers and temperature-regulated ovens — coconut cake became accessible and was adopted into the broader Southern canon; the cake's origins were forgotten.
Many people dispute the notion of culinary appropriation, pointing out that this country's foods derive from multiple influences. This, though, is "cultural diffusion," according to Mr. Twitty, a naturally occurring phenomenon, while the other is a form of stealing from those whom Ms. Siner described as "powerless."
With appropriation, "it's not so much the content that's missing, it's the context," she said. "I don't know why Americans don't see this as a form of racism."
Given the degree to which appropriation has occurred, and the complications of correcting the revisionism, how can culinary justice be achieved? Who might get "any of the credit or the money?" asked Ms. Siner. Can reparations or parity be granted, and how would qualification and amounts be determined?
"The first step in addressing it is to acknowledge the roots of it," said Ms. Siner. "Once it's acknowledged, then we move on" and can "celebrate the contributions of these individuals."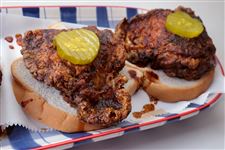 Hot fried chicken.
THE BLADE/LORI KING
Enlarge | Buy This Image
Hot Fried Chicken
BRINE:
1 quart water
¼ cup habanero hot sauce or another really hot, hot sauce
¼ cup kosher salt
¼ cup sugar
8 boneless chicken thighs with skin
CHICKEN:
¼ cup canola oil, plus more for frying
1 tablespoon cayenne pepper
½ teaspoon paprika
¼ teaspoon garlic powder
½ teaspoon sugar
Kosher salt and freshly ground black pepper
2 cups all-purpose flour
To brine the chicken: In a large bowl, whisk the water, hot sauce, salt, and sugar until the sugar dissolves. Submerge the chicken in the liquid and refrigerate for at least 1 hour and up to 6 hours.
To prepare the fried chicken: Heat the oil in a small saucepan over medium heat until simmering. Add the cayenne, paprika, garlic powder, sugar, and 1 teaspoon salt. Cook, stirring, until fragrant, about 30 seconds. Transfer to a small bowl and reserve.
In a large resealable plastic bag or paper bag, combine the flour with 1/2 teaspoon salt and 1 teaspoon freshly ground black pepper. Add the chicken in batches and shake well until all the pieces are evenly coated.
Add enough oil to a cast-iron or other heavy skillet to come 1/2 inch up the sides. Heat the oil over medium heat until it reaches 365F. The oil's ready when a little flour dropped in bubbles and sizzles steadily.
Remove the chicken from the flour, shaking off excess. Carefully place the chicken in the oil, skin side down. Repeat, adding just a few more pieces to the pan. You don't want to crowd the pan. Keep adjusting the heat to keep a steady sizzle and to maintain 365F. Cook until browned on the bottom, about 3 minutes, then carefully turn each piece over. Cook until browned on the bottom, about 3 minutes, then continue cooking and turning to evenly brown until cooked through, about 10 minutes total.
Crumple up some paper towels and drain the chicken on them. Repeat with the remaining chicken, replenishing and reheating the oil between batches. Transfer to a serving dish and drizzle with the reserved spice oil. Serve hot.
Yield: 4 servings
Source: carlahall.com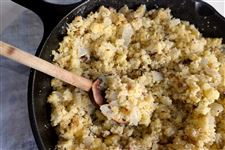 Cornbread Kush.
THE BLADE/LORI KING
Enlarge | Buy This Image
Cornbread Kush
4 tablespoons lard, shortening, or cooking oil
2 white or yellow onions, roughly chopped
1 teaspoon salt
1 teaspoon red pepper flakes
Dried herbs, to taste (sage, bits of rosemary, thyme)
¼ cup country ham or smoked turkey, minced (optional)
1 8-inch-square pan of yellow cornbread, cooled, slightly dry, and crumbled
¼ cup chicken, ham, beef, or vegetable stock (see note)
Heat the lard, shortening, or oil in a large skillet. Sauté the onions until they are translucent. Add half of the salt, half of the red pepper flakes, and some of the herbs.
As the onions begin to turn clear, add the meat (if using). Slowly stir the crumbled cornbread into the skillet until all of it is completely incorporated.
Add the rest of the red pepper flakes, herbs, and salt. Add stock to moisten. Cook over a low heat and stir frequently until the stock has been fully absorbed. Do not allow the kush to burn. Serve immediately with boiled vegetables or fish.
Yield: 8 servings
Source: Adapted from Michael Twitty, munchies.vice.com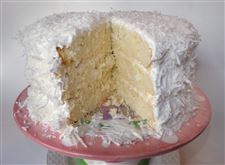 Miss Essie Brazil's Three-Layer Coconut Cake.
THE BLADE/LORI KING
Enlarge | Buy This Image
Miss Essie Brazil's Three-Layer Coconut Cake
Cake:
1 cup unsalted butter, softened
2 cups granulated sugar
4 eggs, separated
3 cups cake flour, sifted
2 teaspoons baking powder
¼ teaspoon salt
1 cup milk
1 cup sweetened flaked coconut
2 teaspoons vanilla extract
Frosting:
2 cups granulated sugar
¼ cup light corn syrup
1 cup boiling water
3 egg whites
1 teaspoon vanilla extract
2 to 2½ cups sweetened flaked coconut, for garnish
Preheat the oven to 350F. Grease and lightly flour three 9-inch round cake pans.
To make the cake: In a large mixing bowl cream the butter and sugar thoroughly until light and creamy. Add the egg yolks one at time, beating well after each addition.
In a large bowl, sift together the flour, baking powder and salt. Add the flour mixture to the butter and sugar mixture, alternating with the milk, beating after each addition. Stir in the coconut and vanilla extract.
In another bowl, beat the egg whites until they form stiff peaks. Fold them into the cake batter, then divide the batter evenly into the prepared cake pans.
Bake for 30 minutes, or until a toothpick inserted into the middle of each layer comes out clean. Allow to cool in their pans for 10 minutes, then unmold them onto wire racks to cool completely.
To make the frosting: In a large saucepan, combine the sugar, corn syrup and boiling water. Bring to a boil over medium-low heat, and cook until the mixture spins thread and reaches 242F on a candy thermometer.
In a large bowl, beat the egg whites until they form stiff peaks. Pour the sugar syrup over the egg whites, beating constantly. Add the vanilla extract, then cool the frosting until firm enough to spread.
Assemble the cake: Transfer one cake layer to a serving platter, placing it upside down. Spread scant 1/3 of the coconut frosting on top. Sprinkle a bit of coconut on top. Top with another cake layer, placed upside down, and spread with the another scant 1/3 of the frosting. Sprinkle more coconut on top.
Top with the remaining cake layer, placing it right-side up, then spread the remaining frosting on the top and sides of the cake. Sprinkle the top and sides of the cake with the remaining coconut, pressing gently into the frosting.
Yield: 12 servings
Source: Adapted from Patty Pinner, Sweets: A Collection of Soul Food Desserts and Memories
Contact Mary Bilyeu at 419-724-6155 or mbilyeu@theblade.com, and follow her at facebook.com/thebladefoodpage.
Guidelines: Please keep your comments smart and civil. Don't attack other readers personally, and keep your language decent. Comments that violate these standards, or our privacy statement or visitor's agreement, are subject to being removed and commenters are subject to being banned. To post comments, you must be a registered user on toledoblade.com. To find out more, please visit the FAQ.