Galentine's Day a celebration of food, friendship
2/12/2018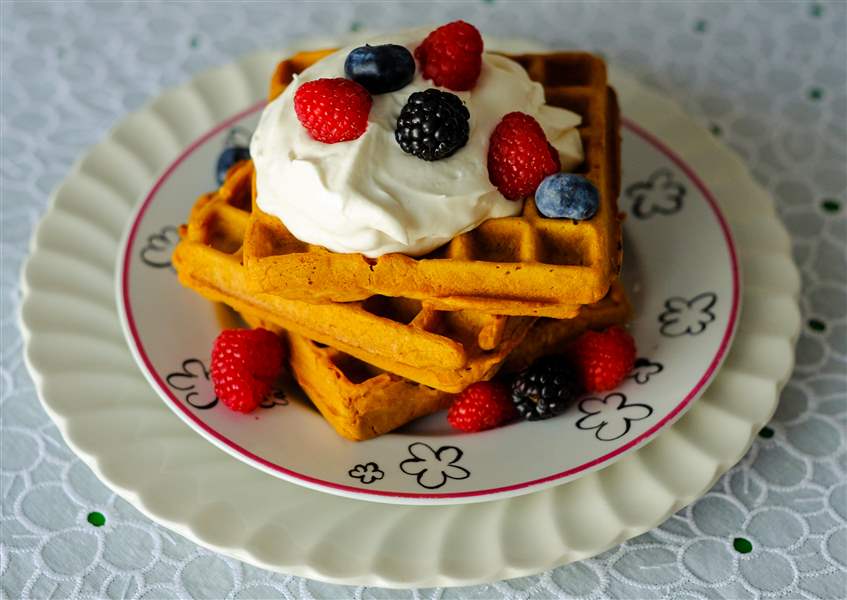 Belgian Beer Waffles
THE BLADE/JEREMY WADSWORTH
Buy This Image
Happy Galentine's Day!
No, that's not a typo — Valentine's Day isn't until Wednesday. Tuesday, though, is Galentine's Day, with a "g."
"Oh, it's only the best day of the year!" explained the character Leslie Knope, played by Amy Poehler on the comedy series Parks and Recreation. The show aired on NBC for six years and introduced the mock holiday in an episode from February, 2010.
"Every Feb. 13, my lady friends and I leave our husbands and boyfriends at home and we come and kick-it, breakfast-style," Ms. Knope said. "Ladies celebrating ladies. It's like Lilith Fair, minus the angst. Plus frittatas."
While Valentine's Day is dedicated to romance, Galentine's Day is set aside to honor our female friends: those poetic noble land mermaids and beautiful glowing sun goddesses, to use Ms. Knope's affectionate phrases for her dearest, closest friend, Ann Perkins (actress Rashida Jones). These are the women with whom we share our joys, tears, successes, struggles, and so much more.
These are the women who help us get through life.
Those who are looking for equal opportunity friendship festivities could partake of Palentine's Day, celebrating all of our best pals (male, female, even canine or feline).
But there's something special about the bond and the enduring power of female friendships.
Even before Galentine's Day became an occasion for frittatas and festivities, Perrysburg resident Mary Martin used to throw lavish parties each February for "about 50 of my closest girlfriends," she said. The parties would begin around 1 p.m., and many of the attendees would still be there until early evening.
The Ottawa Hills High School choir, under the direction of now-retired Steve Wipfli, was hired to perform at the annual bash, to "serenade us with wonderful romantic tunes," said Ms. Martin. And she "ordered elaborate chocolates and cake" and "only good champagne," she said, believing that her cherished girlfriends deserved the very best.
She would provide everything for the parties, as a gift to her guests.
"I had them bring nothing but themselves and a good attitude," Ms. Martin said.
"I love Valentine's Day," she said. But not everyone in her circle has always shared that enthusiasm.
Her friends' husbands were often "lackadaisical," Ms. Martin said, and she noted that her girlfriends would be disappointed when no special plans were made for date nights with their spouses or significant others. Valentine's Day was becoming nothing but a letdown to many of the women she knew. It was also a pointed reminder, from a society that often seems to promote and prefer pairs, that others were alone.
"That's what prompted me," she said.
Even though she was married at the time, the parties weren't for couples: "Just for my girlfriends," Ms. Martin said. "And we just celebrated each other."
While Galentine's Day is becoming a big, fantastic, favorite day for BFFs, there's no reason that it necessarily has to be celebrated on Feb. 13 any more than Valentine's Day must be honored specifically on the next day. The latter is a bit complicated this year, given that it's also Ash Wednesday. Many people will eschew both romantic dinners and boxes of chocolates on the first day of Lent, choosing to show their love on a different date.
Friendship, just like love, can and should be honored any and every day.
No brunch for this fabulous fête of females would be complete without the requisite frittatas, champagne, chocolates, and, of course, waffles. They're Ms. Knope's favorite food, and she smothers them in whipped cream.
"We need to remember what's important in life: Friends, waffles, work. Or waffles, friends, work. Doesn't matter," she said. "But work is third."
A perfect motto for the day.
"To girlfriends," said Ms. Knope on the show, raising a glass to her brunch mates.
To girlfriends — those rainbow-infused space unicorns (another Leslie-ism) — on this Galentine's Day!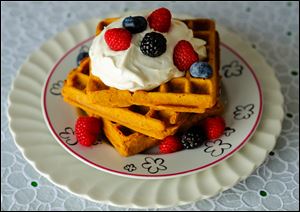 Belgian Beer Waffles
Belgian Beer Waffles
2¼ cups all-purpose flour
1 teaspoon salt
4 teaspoons baking powder
1¼ teaspoons baking soda
4 tablespoons sugar, or more if desired
5 tablespoons unsalted butter
¾ cup milk
1 cup beer (a mild, neutral ale or lager works well)
1½ teaspoons vanilla extract
2 large eggs
For serving: Freshly whipped cream and fresh fruit
Whisk together all dry ingredients in a large mixing bowl to evenly distribute.
Melt butter in a medium sauce pan. Add milk and beer and continue to heat until mixture is warm.
Whisk vanilla extract into eggs. Slowly pour warm beer mixture into eggs, whisking constantly.
Make a well in the center of the dry ingredients. Slowly pour beer-egg mixture into the well, whisking at the center of the well, gradually widening the diameter of your stroke until all dry ingredients have been incorporated. Continue to mix until only a very few lumps remain.
Lightly grease and pre-heat a waffle iron (Belgian or standard) to medium. Pour batter using a 1/2-cup measure. Cook to desired doneness according to manufacturer's instructions, then serve with freshly whipped cream and fruit.
Yield: 6 to 9 waffles
Source: Adapted from Amanda Clarke, seriouseats.com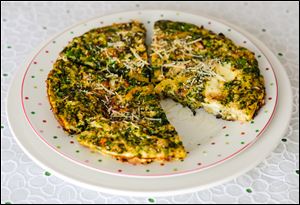 Leafy Greens Frittata
Leafy Greens Frittata
4 ounces pancetta, bacon, or bacon ends, diced small
1 medium onion, quartered, thinly sliced
4 ounces mushrooms, diced
2½ cups coarsely chopped greens (collards, kale, Swiss chard, and/or spinach)
8 eggs
3 tablespoons half-and-half
2 tablespoons chopped fresh parsley
2 tablespoons chopped fresh basil
Salt and freshly ground black pepper
Preheat the oven to 350F.
In a large ovenproof skillet (preferably a 10-inch cast iron one), sauté the pancetta over medium-low heat until browned and crispy. Remove from the heat, then pour off and reserve most of the fat so that only a thin coating remains in the pan.
Return the pan to the stove top. Add the onion to the skillet and cook for about 15 minutes, until caramelized.
Add the mushrooms, about 1 teaspoon of the reserved fat (if needed), and the greens. Bring the heat up to medium and sauté for about 5 minutes, until the greens are wilted.
In a medium bowl, beat the eggs with the half-and-half, parsley, basil, and generous pinches of salt and black pepper. Pour the eggs into the pan with the greens mixture and cook over medium heat for 1 to 2 minutes to set the base.
Transfer the pan to the oven and bake for 10 minutes. Turn the oven to the broil setting and finish off the frittata by broiling the top for 2 to 3 minutes, until light brown.
Allow to cool slightly, then serve.
Yield: 6 servings
Source: Adapted from Diana Rogers, lodgemfg.com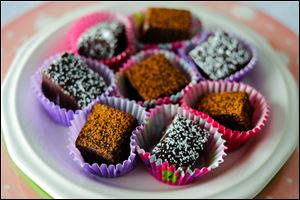 Coffee Truffles
Coffee Truffles
1 tablespoon espresso or instant coffee granules
½ cup heavy cream
2 cups semisweet chocolate chips
2 tablespoons coffee liqueur or coffee
½ teaspoon vanilla extract
Cocoa powder or powdered sugar, for garnish
Line an 8 by 4-inch loaf pan with greased foil, letting foil extend above pan.
Stir the coffee granules into the cream. Melt the chocolate and cream together in a medium saucepan over low heat (or in a microwave on high, stirring at 10-second intervals) until chocolate melts and mixture is smooth. Remove from heat.
Stir in the liqueur and the vanilla, then pour into prepared pan. Cover and refrigerate at least 2 hours until set.
Lift the chocolate from the pan by the extended foil and place it onto a cutting board. Trim the edges to neaten them, then cut the slab with a sharp knife into 3 rows lengthwise and 8 crosswise. (When cutting, the edges will be neater if you run the knife under hot water and wipe it dry before each slice.) Sift cocoa powder or powdered sugar over the truffles. Keep refrigerated until serving.
Yield: 24 truffles
Source: Adapted from womansday.com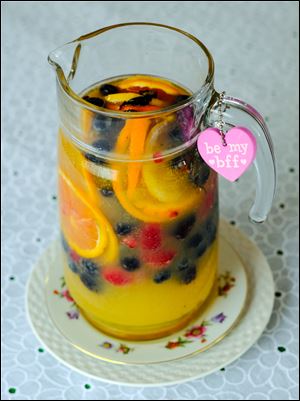 Mimosa Sangria
Mimosa Sangria
1 medium orange (mandarin, Cara Cara, or blood orange)
½ lemon
12 ounces fresh berries (raspberries, blueberries, strawberries, blackberries)
¾ cup peach schnapps
2 cups orange juice
1 bottle champagne
Cut the orange and lemon into thin slices. Place the fruit slices and the berries into a pitcher. Pour the peach schnapps and orange juice in, then cover with plastic wrap and refrigerate 3 hours or overnight.
Right before serving, top off the pitcher with champagne and stir. Pour into glasses and top off each serving with a splash of the remaining champagne.
Yield: 1 pitcher
Source: Adapted from sprinkledwithjules.com
Contact Mary Bilyeu at 419-724-6155 or mbilyeu@theblade.com, and follow her at facebook.com/thebladefoodpage.