Cereal — it's not just for breakfast anymore.
You already use it when making Rice Krispies treats. There's also savory Chex Mix and its sweet counterpart, affectionately known as Puppy Chow.
Corn Flakes can be crushed and used as a coating for chicken or a topping for apple crisp or find their way into vividly green, marshmallowy holiday wreath confections decorated with Red Hot candies and sprinkles.
Sweetened puffed wheat is integral to batidas de trigo, puréed into Cuban-style milkshakes. More healthful options include bran muffins, oatmeal cookies, and granola-yogurt-fruit parfaits.
But remember: You don't have to transform your ingredients as they do on Chopped. You could even go old school and just put your cereal into a bowl and top it with milk.
Cereal has so much potential and versatility that it deserves to be celebrated. Conveniently, a food holiday has been set aside for this very purpose: Wednesday is National Cereal Day.
Fittingly, according to Foodimentary.com — a site devoted to trivia and a year's worth of daily food fests — the word cereal "comes from Cerealia, the name of ancient Roman ceremonies that honored Ceres, the goddess of grain."
Nationalcerealday.com reports that grain-based nuggets were developed in the mid-19th century in an effort to improve the gastrointestinal health of Americans whose diet was very heavy on meat consumption. The site says it was "believed by some that a high-protein diet contributed to lust and sloth and that constipation and other maladies of the gastrointestinal tract were God's punishment for too much pork and beef."
Thus, bran nuggets that were soaked overnight to make them edible (a precursor to today's popular overnight oats?) were created by James Caleb Jackson, a doctor who "operated a sanitarium, a health resort of sorts." Mr. Jackson produced the "first ready-to-eat breakfast cereal, Granula," in 1863, according to Foodimentary.
John Kellogg later developed his own granola and, with his brother Will, devised a way to turn grains into flakes. The simple but eternally popular Corn Flakes were introduced in 1894.
Another famed name in the cereal game, Charles William Post, spent time at a sanitarium at which the Kellogg brothers provided care. He, too, believed in the potential of cereals to improve health, leading to the creation of Grape Nuts in 1897 and Rice Krispies in 1928.
It wasn't until 1939 that cereal started to lose its status as a health food, "thanks to sugar and marketing savvy," according to the National Cereal Day site. "That's when the first sweetened cereal, Ranger Joe Popped Wheat Honnies, appeared in grocery stores, which would set the trend for a sweetened product that appealed to children."
Cereal is a perennial favorite for kids of all ages, but it can certainly be so much more than merely a bountiful bowlful.
So try some new recipes in honor of Wednesday's food holiday. It's a perfect opportunity to get serious about cereal.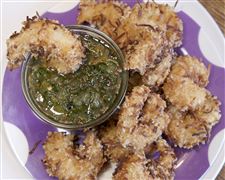 Coconut Shrimp with Tangy Pineapple-Chili Dip.
THE BLADE/LORI KING
Enlarge | Buy This Image
Coconut Shrimp with Tangy Pineapple-Chili Dip
This is a gluten-free version of the dish, with the shrimp being coated in rice cereal rather than with flour.
DIP:
3/​4 cup pineapple preserves or ice cream topping
2 tablespoons chopped fresh cilantro leaves
1/​4 to 1/​2 teaspoon dried chili pepper flakes
SHRIMP:
2 pounds medium shrimp, shelled and deveined
1 cup cornstarch
1 teaspoon baking soda
4 large eggs, lightly beaten
4 cups rice square cereal, crushed
2 cups shredded sweetened coconut
Salt
Oil for frying
Stir preserves, cilantro, chili flakes, and 1 tablespoon water (if desired, for a thinner consistency) in a bowl until combined; set aside.
Pat shrimp dry with paper towels. Stir cornstarch and baking soda in a small bowl. Place eggs in a deep sided bowl or large mug. Place cereal, coconut, and 1 teaspoon salt in a large shallow dish.
Pour oil in Dutch oven to 2 inches deep. Heat over medium heat to 350F. Working one shrimp at a time, dredge in cornstarch mixture, dip in egg, then coat in cereal and coconut, pressing well to adhere coating to shrimp.
Coat a batch of six or so shrimp (depending on size) and then carefully drop into oil. Cook until golden on each side. Transfer to a paper towel-lined plate and repeat with remaining batches of shrimp, adjusting heat as necessary to keep temperature of oil consistent. Serve immediately with dipping sauce.
Yield: 4 servings
Source: Adapted from Yvonne Ruperti, seriouseats.com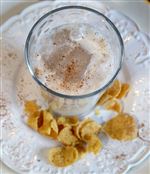 Cereal Milk Punch.
THE BLADE/LORI KING
Enlarge | Buy This Image
Cereal Milk Punch
A classic New Orleans cocktail is updated. The cereal milk recipe was adapted from Christina Tosi, the award-winning pastry chef of Momofuku Milk Bar (milkbarstore.com) in New York City.
FOR THE CEREAL MILK:
2 3/​4 cups cornflakes
3 cups cold whole milk
3/​4 cup cold heavy cream
2 tablespoons packed light brown sugar
1/​4 teaspoon kosher salt
FOR THE PUNCH:
3 ounces cereal milk
1 ounce bourbon
2 teaspoons powdered sugar
1/​4 teaspoon vanilla extract
Grated nutmeg, to garnish
Preheat your oven to 300F and place a rack in center of the oven. Line a rimmed baking sheet with parchment paper or a silpat.
Spread cornflakes out in an even layer on the prepared baking sheet. Bake for 15 minutes, until lightly toasted and fragrant. Let cool completely then transfer to a large pitcher.
Whisk together whole milk and heavy cream, then pour over cornflakes, stirring until well combined. Let steep for 20 minutes at room temperature.
Set a fine mesh basket strainer over a large bowl. Pour the cereal milk mixture through the strainer. Gently press the cornflakes to extract as much milk as possible, but don't press the mush through the mesh into the milk below. Discard cornflakes.
Whisk brown sugar and salt into the infused milk until fully dissolved. Store in the refrigerator for up to 1 week.
To make the cocktail, combine 3 ounces of cereal milk, bourbon, powdered sugar, and vanilla in a small tumbler, gently whisking to combine. Add ice and stir until well chilled. Finish with a dusting of freshly grated nutmeg.
Yield: 1 serving
Source: Adapted from kitchenkonfidence.com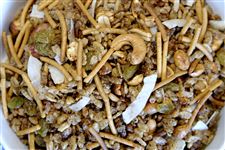 Chivra (Curry-spiced Snack Mix).
THE BLADE/LORI KING
Enlarge | Buy This Image
Chivra (Curry-spiced Snack Mix)
This snack offers salty, sweet, and spicy crunch.
3 cups crisp rice cereal
1 cup chow mein noodles, gently crushed
1/​2 cup lightly salted peanuts
1/​2 cup roasted cashews
1/​3 cup oil
1 tablespoon hot curry powder
1 tablespoon garam masala
1/​2 teaspoon Cajun seasoning
1/​2 cup golden raisins
1/​2 cup coconut chips
Preheat oven to 375F.
In a large mixing bowl, combine Rice Krispies, chow mein noodles, peanuts, and cashews.
In a small skillet, heat the oil and all of the spices, swirling the pan to combine everything, for 1 minute. Pour the spice mixture over the cereal mixture and stir to mix well.
Pour mixture onto a baking sheet and bake for 10 to 15 minutes, stirring halfway through the cooking time, until the mixture is deeply golden and toasted. Let cool, then stir in the raisins and the coconut. Store in an airtight container.
Yield: 6 cups
Source: Mary Bilyeu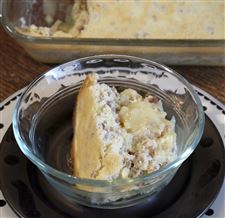 Lemon Graham Nut Pudding.
THE BLADE/LORI KING
Enlarge | Buy This Image
Lemon Graham Nut Pudding
Recipes using graham nuts (or Grape Nuts) "abound" among the Amish in Indiana, who make them from scratch, writes Marcia Adams.
1/​4 cup butter, softened
1 teaspoon grated lemon rind
1 cup sugar
2 eggs, separated
3 tablespoons lemon juice
2 tablespoons flour
½ cup Grape Nuts
1 cup buttermilk
Cream, for serving (optional)
Preheat oven to 325F. Grease an 8-by-4-inch loaf pan or another 5-cup baking dish that is 3 inches deep.
In a large mixer bowl, cream the butter and lemon rind. Add the sugar gradually and blend well.
Beat the egg yolks and stir in thoroughly. Add lemon juice, flour, Grape Nuts, and buttermilk; mix well.
Beat the egg whites until stiff, then add approximately 1 cup of the flour mixture to the whites; fold in gently. Then fold the flour-whites mixture into the sugar mixture.
Pour the batter into the prepared baking dish. Place the baking dish into a 9-by-13-inch pan of hot water (water should come about halfway up the side of the smaller pan) and bake for 1 1/​4 hours. When done, the pudding will be set (very slightly wobbly when gently shaken), the top will be golden brown, and a custard will have formed on the bottom of the baking dish with a top layer into which the Grape Nuts have been distributed.
Let cool, then serve topped with cream, if desired.
Yield: 8 servings
Source: Adapted from Marcia Adams, Cooking From Quilt Country
Contact Mary Bilyeu at mbilyeu@theblade.com, and follow her at facebook.com/​thebladefoodpage, bladefoodpage on Instagram, or @BladeFoodPage on Twitter.
Guidelines: Please keep your comments smart and civil. Don't attack other readers personally, and keep your language decent. Comments that violate these standards, or our privacy statement or visitor's agreement, are subject to being removed and commenters are subject to being banned. To post comments, you must be a registered user on toledoblade.com. To find out more, please visit the FAQ.