"Beware the ides of March" warned the soothsayer in William Shakespeare's Julius Caesar — and with good reason.
Gaius Julius Caesar, dictator for life, was increasingly feared by those who were wary of his growing and excessive powers. He was assassinated by conspiring senators on March 15, 44 B.C.
To mark the Ides of March — the day of the new year's first full moon on early Roman calendars — many might be inclined to serve a Caesar salad. This would not be appropriate, though, because it's not Julian: Restaurateur Caesar Cardini is credited with creating the dish in 1924.
Instead, why not study the classics and eat some classic Roman dishes?
De Re Coquinaria (On the Subject of Cooking), which is attributed to Apicius, is "the most ancient of European cookery books," wrote Joseph Dommers Vehling, who prepared the first English translation of the work in 1977.
Apicius was "the surname of several renowned gastronomers of old Rome," continued Mr. Vehling. One in particular, M. Gabius Apicius, lived during the times of Julius Caesar and his successor, Augustus. And he was such a food-obsessive, it's said, that once he'd spent the bulk of his money on his dining habits, he "took his own life, fearing that he might have to starve to death some day."
The book attributed to Apicius, which Mr. Vehling notes is likely "a gastronomic bible, consisting of ten different books by several authors," was still "a standard work for cookery that existed at one time or other in a far more copious volume," with only a fragment now remaining.
But that remnant, containing more than 450 recipes, tells a great deal about the Romans' dining habits.
Primary flavorings were honey, vinegar, a fermented fish sauce called garum, passum (a raisin wine), and herbs such as lovage, write Andrew Dalby and Sally Grainger in The Classical Cookbook. Black pepper and cumin often enhanced sweets, which were usually elaborate and required professional skills. Food and drink were also considered medicinal, to be used for health.
De Re Coquinaria offers only the most minimal descriptions and instructions; the intended audience would likely have been those who'd been enslaved and had extensive experience as cooks. The recipes range from a simple Milk Toast (heat milk, break bread into it, and cook) to an elaborate one, in the chapter titled "Sumptuous Dishes," for a stuffed, smoked, breaded, and brined Pig's Paunch.
When in ancient Rome, so to speak, dine as they did in the time of Julius Caesar.
But have no fear: With the following modernized recipes for both savory and sweet dishes, there's no need to beware the Ides of March.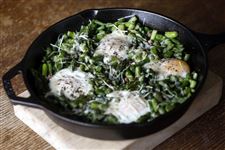 Uova in Tegame con Asparagi e Pancetta (Eggs Sunny-side Up with Asparagus and Pancetta)
The Blade/Katie Rausch
Enlarge | Buy This Image
Uova in Tegame con Asparagi e Pancetta (Eggs Sunny-side Up with Asparagus and Pancetta)
"The ancient Roman foodie Apicius gives a recipe for what we'd probably call an asparagus frittata," writes David Downie.
2 pounds green asparagus
1 clove garlic
2 ounces pancetta or bacon
1 tablespoon extra-virgin olive oil
4 large eggs
About 1 1/2 cups freshly grated Pecorino Romano
Freshly ground black pepper
Rinse the asparagus and cut off the woody lower sections.
Bring about 1 cup of water to a boil in a wide saucepan or a deep frying pan. Add the asparagus and cook until barely al dente, 3 minutes. Transfer the asparagus to paper towels to dry the spears. Chop them into roughly 1/2-inch sections, leaving the tips whole.
Peel and halve the garlic with a paring knife, discarding the green shoots. Roughly chop the pancetta; you should have about 1/2 cup.
Heat the oil in a large frying pan over medium heat. Add the pancetta and garlic and sauté until the garlic colors and the pork barely begins to crisp, 2 to 3 minutes. Transfer the pancetta to a plate with paper towels to absorb excess fat. Discard the garlic. Drain off about half of the fat in the frying pan.
Add the asparagus to the frying pan and sauté for about 1 minute over medium heat, stirring and scraping with a wooden spoon or spatula. Lower the heat to minimum and stir the pancetta back in.
Crack the eggs carefully atop the asparagus, making sure not to break the yolks. Sprinkle 4 heaping tablespoons of Pecorino Romano and a generous pinch of pepper on top. Cover the frying pan and steam the eggs until the whites are firm, 3 to 4 minutes, or to desired doneness.
Serve immediately with the eggs sunny-side up and a bowl of the remaining Pecorino Romano on the side.
Yield: 4 servings
Source: Adapted from David Downie, Cooking the Roman Way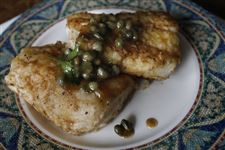 Fish Fillets in Caper Sauce
The Blade/Katie Rausch
Enlarge | Buy This Image
Fish Fillets in Caper Sauce
Patina de Apua, in Apicius' De Re Coquinaria, calls for cooking fish in a pan, adding wine and herbs, and finishing the dish with a touch of pepper.
1 pound sole fillets or other white-fleshed saltwater fish
1/2 cup flour
Freshly ground white or black pepper
4 tablespoons unsalted butter
2 tablespoons small capers, drained
1/4 cup dry white wine
2 tablespoons chopped fresh Italian parsley
Sea salt, to taste
Pat the fillets dry with paper towels. This step is very important in order to sauté the fillets properly.
Place a large piece of waxed paper on your work surface and measure the flour onto it. Sprinkle with pepper, then spread the flour out. Lightly dredge the fillets in the flour, making sure to coat all sides. Dredging must be done at the last minute to assure a crisp coating.
In a large skillet, melt the butter over medium heat. When the butter foam has subsided, slip the fillets into the skillet. Sauté over medium to medium-high heat until lightly golden, about 1 to 2 minutes on each side depending on the thickness of the fillets, turning them only once. Transfer to a heated platter and reduce the heat to medium-low.
Add the capers and wine to the skillet. Stir to scrape up any browned bits from the bottom of the pan. Cook until the liquid has reduced a bit and the sauce has thickened slightly, about 2 minutes. Stir in the parsley and salt.
Remove the pan from the heat and pour the sauce over the fish. Sprinkle with a pinch of pepper and serve immediately,
Yield: 2 servings
Source: Adapted from Julia della Croce, Roma: Authentic Recipes from In and Around the Eternal City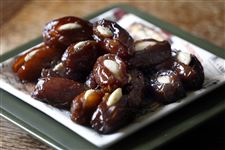 Dulcia Domestica (Almond-stuffed Dates)
The Blade/Katie Rausch
Enlarge | Buy This Image
Dulcia Domestica (Almond-stuffed Dates)
Apicius' De Re Coquinaria contains a recipe for Dulcia Domestica, or homemade sweets: pitted dates stuffed with nuts, candied with honey, and sprinkled with salt.
18 blanched almonds:
18 Medjool dates, pitted (one 12-ounce package)
2 tablespoons butter
1/4 cup honey
2 tablespoons water
A pinch of flaked or coarse sea salt
A pinch of freshly ground black pepper
Place one almond into each of the dates.
Melt the butter in a 10-inch non-stick skillet over medium heat until it just starts to bubble. Carefully place the dates into the pan and cook for 2 minutes, using a small spoon to scoop the butter and baste the dates. Gently shake the pan back-and-forth a bit.
Combine the honey and water; pour over the dates. Cook for 2 more minutes as the honey butter bubbles, continuing to baste and gently shake the pan. Don't overcook, or the dates will get too soft.
Remove from the heat. Let cool slightly, then place onto a serving plate. Drizzle the honey butter from the skillet over the dates and sprinkle with the salt and pepper. Serve warm.
Yield: 18 pieces
Source: Adapted from glorious.atenveldt.org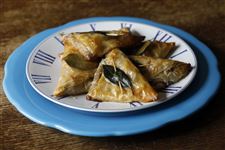 Antichi Romani (Ricotta-filled Phyllo Packets)
The Blade/Katie Rausch
Enlarge | Buy This Image
Antichi Romani, Delizia-style (Ricotta-filled Phyllo Packets)
Pasticceria Cinque Lune, a bakery in Rome that first opened in 1902, makes these ricotta-filled pastries whose name translates to Ancient Romans.
FILLING:
12 ounces whole-milk ricotta
3 tablespoons honey
1 teaspoon freshly grated lemon zest
1 teaspoon freshly grated orange zest
1 teaspoon cinnamon
1 tablespoon poppy seeds
1/4 cup pistachios, chopped
1/4 cup dark chocolate, chopped
1/4 cup dried cherries, chopped
Pinch of salt
1 large egg
PASTRY:
8 tablespoons unsalted butter, melted
4 tablespoons honey, slightly warmed
1 roll of phyllo dough, thawed
18 small or 9 large fresh bay leaves (see note)
Drain the ricotta in a strainer lined with cheesecloth for 30 minutes.
Preheat oven to 350F. Line a large baking sheet with parchment paper.
Prepare the filling: Combine the drained ricotta, honey, zests, cinnamon, poppy seeds, pistachios, chocolate, cherries, a pinch of salt, and the egg. Mix well to combine.
Assemble the pastries: Combine the butter and honey in a small bowl.
Lay 1 sheet of phyllo onto a large cutting board with a long side closest to you, covering the other sheets with a lightly damp paper towel. Using a pastry brush, gently brush the phyllo with the butter-honey mixture. Lay 2 more sheets on top, brushing each with the butter-honey mixture.
Cut the dough crosswise into four 3-by 9-inch strips. Place 2 tablespoons of the ricotta filling at one end of each strip, then gently fold the phyllo diagonally across to form a triangle. Continue folding up the dough over and over to form a packet in the same manner as folding a flag. Lay these parcels on the prepared baking sheet. Repeat with remaining phyllo and filling. Brush each packet with more of the butter-honey mixture.
Using a toothpick, secure a bay leaf to the top of each packet, then bake until golden and crispy, 25 to 30 minutes.
Serve warm or at room temperature. Discard the bay leaves before eating.
Note: Fresh bay leaves, grown aquaponically onsite, are available for 25 cents each at the Phoenix Earth Food Co-op, 1447 W. Sylvania Ave., 419-476-3211. Or you can substitute dry bay leaves by placing them on top of each pastry and brushing with the butter-honey mixture before baking; toothpicks aren't necessary. Cut large leaves into halves or quarters.
Yield: 18 pastries
Source: Adapted from Amelia Pane Schaffner, ztastylife.com
Contact Mary Bilyeu at mbilyeu@theblade.com, and follow her at facebook.com/​thebladefoodpage, bladefoodpage on Instagram, or @BladeFoodPage on Twitter.
Guidelines: Please keep your comments smart and civil. Don't attack other readers personally, and keep your language decent. Comments that violate these standards, or our privacy statement or visitor's agreement, are subject to being removed and commenters are subject to being banned. To post comments, you must be a registered user on toledoblade.com. To find out more, please visit the FAQ.