1812 Food & Spirits
★★★★
Address: 2590 E. Sand Rd., Port Clinton
Phone: 419-960-7588
Category: Upscale dining
Menu: Chops, seafood, pasta
Hours: 11 a.m. to 9 p.m. Sundays through Thursdays; 11 a.m. to 9:30 p.m. Fridays and Saturdays
Wheelchair access: Yes.
Average price: $$$
Credit cards: MC, V, D, AE.
Website: 1812foodspirits.com
PORT CLINTON — 1812 Food & Spirits is a culinary celebration of Comm. Oliver Hazard Perry's naval dominance on Lake Erie during the War of 1812.
The fledgling restaurant, which moved from downtown Port Clinton east to its current location two years ago, is decorated in the colonial style with navy blue and mustard walls, wooden ships, and historical artwork. The menus offer diners a narrative of the War of 1812 and Perry's battle off the Lake Erie shores.
The 1812 breathes an elegant air with its clothed tables by large windows that overlook an old golf course, and bird feeders that draw Baltimore orioles and other local birds, despite encouragement by staff to come dressed as you are for the day, a certain shout-out to tourists who blanket the area in the summer.
The restaurant opened about six years ago in the Island House Hotel in downtown Port Clinton, but eventually moved into the clubhouse of the now-closed Islander (before that Catawba Willows) Golf Course, 2590 E. Sand Rd., on the Portage and Catawba Island township line, towing many of its regular customers along with it.
We decided to visit and check out not just the historical vibe, but the food served with it. We are happy to report that, like Commodore Perry more than 200 years ago, the caliber of cuisine at this establishment reigns victorious.
I'll start out with this public service announcement: Save room for dessert. The lava cake, the Godiva cheesecake, and the bread pudding we sampled were all excellent. You're welcome.
The restaurant leans heavily on the side of seafood, which seems appropriate, since you can see glimpses of the very lake that regularly provides the yellow perch and walleye prepared here.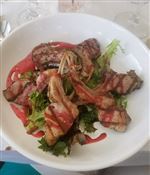 Lamb chops from 1812 Food & Spirits in Port Clinton.
As an appetizer on our first visit, we tried the Seared Walleye Cakes ($11), a blend of the fish, red pepper, and green onions with a lemon aioli. These are highly recommended and at least one dining companion was sorely disappointed when we ran out of the creamy, melt-in-your-mouth cakes.
The second trip, we tried the Garlic Steamed Mussels ($15) steamed in white wine garlic rosemary lemon butter broth, and a daily appetizer special, Garlic Parmesan Scallops ($9), sautéed in garlic Champagne butter sauce and topped with shaved parmesan cheese. We were enamored with the miniature scallops and they were scooped up quickly. We attempted to feel similarly about the mussels, but happened by chance to be a group of rosemary naysayers. That said, the mussels were cooked well, and we ate them all while lamenting the absence of parsley or basil.
The Yellow Perch and Walleye dinners (both $27) are served two ways: breaded and deep fried, or breaded and sauteed and served with Champagne-garlic butter sauce. My friend chose fried perch, and was extremely happy with the light, crispy filets.
The 1812 offers chops in the form of pig, lamb, and cow, that can be upgraded with everything from blue crabmeat, asparagus, and hollandaise sauce to a baked Roquefort cheese crust. During our visits, we ordered the Strip Steak ($30), medium rare with sauteed onions, the New Zealand Lamb Chops ($36), with rosemary and red wine raspberry sauce, and a medium rare filet mignon with a dollop of garlic herb butter ($41). The sole disparaging comment was from the lamb chop consumer, who remarked that while she enjoyed them, they lacked a sear on the meat that she prefers.
I rarely order chicken at restaurants because I'm cynical that most chefs can't resist overcooking it. My mom came with me to dinner and ordered the 1812 Chicken ($22). It came baked with a light parmesan bread-crumb crust and a sherry cream sauce on top, and it was spoon-cutting worthy. Winner winner for this chicken dinner.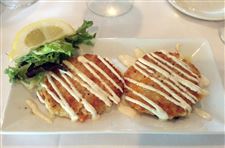 Walleye cakes at 1812 Food & Spirits in Port Clinton.
Local businessman Bill Van Der Giessen owns 1812 and the more casual Rosie's Bar & Grille in downtown Port Clinton. Our server told us the two restaurants collaborate on some things; Rosie's has a bigger kitchen and bakes the aforementioned from-scratch desserts for both locations, she said.
Perhaps the one main dish that fell short of great was the Blackened Shrimp Risotto ($26). The shrimp were sauteed in a cajun seasoning, and they were aptly prepared, but, contrary to the menu's description, the creamy garlic-parmesan risotto was lacking the velvety texture you expect if you are a risotto buff.
The clear overall winner was the Veal Short Ribs ($24), Provimi bone-in veal short ribs slow roasted with fresh herb, tomatoes, carrots, and red wine sauce, and served over that same garlic-parmesan risotto. This time, the risotto was spot-on, and the velvet-smooth ribs fell off the bone.
My friend is still sad that her to-go box with these lavish leftovers accidentally went home with me instead. Her loss was my gain.
Contact Bill of Fare at: fare@theblade.com

Guidelines: Please keep your comments smart and civil. Don't attack other readers personally, and keep your language decent. Comments that violate these standards, or our privacy statement or visitor's agreement, are subject to being removed and commenters are subject to being banned. To post comments, you must be a registered user on toledoblade.com. To find out more, please visit the FAQ.