Editor's note: Kelly Heidbreder's gardening column is going into hibernation until April, when The Blade resumes its weekly gardening pages.
Bitter wind chills can literally stop you cold. And the deep arctic temps can also stop some chemical combinations from melting that slippery ice on your sidewalk or driveway. Pay close attention to the thermometer as you pick up that bag of salt. You might not need salt at all.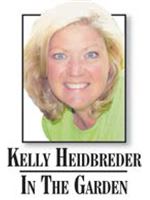 Kelly Heidbreder
Temperature matters
Down to 20 degrees: When temps are below freezing, but not into the teens yet, then look for ammonium sulfate. It is actually fertilizer and is easy to find at your favorite home and garden center. Ammonium sulfate will melt ice down to 20 degrees F. The downside for this treatment is it may put pits in your concrete if you use too much or it sits on there too long.
Potassium is another good chemical to sprinkle on your sidewalk if temps are below freezing and above 20 degrees. Gardeners also call it potash. It helps your flowers and fruit grow strong and it will also help you keep your sidewalk clear before the temps drop into the teens. If it is overused, it could also put pits in your sidewalk or driveway. But the good news is, it won't harm your grass.
Urea is a fertilizer that any farmer or hardcore gardener knows well. It is a byproduct of making natural gas. Pellets made from this fertilizer will melt ice quickly as it drops to 20 degrees F. But beware: The agricultural grade is corrosive and could also damage your pavement.
Down to 15 degrees: When temperatures are below 15 degrees during the day, you might need to use something else. Calcium chloride and magnesium chloride will melt ice faster than rock salt when the mercury drops down to about 15 degrees. It works better when you toss it on a dry sidewalk and prevent ice from forming, rather than melting the ice.
But it has its drawbacks. Once it dissolves, it can make the surface slippery. This happens because the chemicals attract moisture. Here's some good news: Calcium magnesium is good for your grass and your concrete.
15 degrees to below zero: Rock salt is very common in these below-zero temps. Most rock salt consists of sodium chloride. It lowers the freezing point of the ice. It will melt ice in temperatures from 15 degrees to below freezing.
There is a downside to rock salt. If you use too much, it can damage your grass in the spring. If you end up with yellow patches in your lawn near your sidewalk, it is probably because of the salt.
Cover up
The spray from passing cars and snow plows can do some damage to your lawn and shrubs. You can protect trees and shrubs by wrapping them in burlap. That layer of cloth will keep the leaves or needles from the salty spray and protect them from the drying wind. If you have any trees that still have their root ball wrapped in burlap underground, make sure the burlap stays covered. The wind can pull the moisture from the roots from just a small corner whipping in the wind.
We might see warmer weather coming our way in February, so keep a variety of ice-melting concoctions on hand. Happy New Year.
Contact Kelly Heidbreder at: getgrowing@gmail.com.
Guidelines: Please keep your comments smart and civil. Don't attack other readers personally, and keep your language decent. Comments that violate these standards, or our privacy statement or visitor's agreement, are subject to being removed and commenters are subject to being banned. To post comments, you must be a registered user on toledoblade.com. To find out more, please visit the FAQ.