Cardinal Stritch had waited 57 school years to win a conference championship in boys basketball.
An additional four day-wait was nothing.
Snow might have postponed Stritch's championship date until Tuesday, but the Cardinals officially clinched the regular-season Toledo Area Athletic Conference title with a 74-70 victory at Maumee Valley Country Day.
PHOTO GALLERY: Cardinal Stritch wins first title against MV
In a makeup of last Friday's postponed TAAC game, the trio of Little Anderson, Joey Holifield, and Jordan Burton combined for 64 points of Stritch's 74 points.
The victory sealed Cardinal Stritch's first boys basketball conference championship since the school opened its doors in the fall of 1961.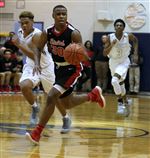 Cardinal Stritch's Joey Holifield is chased by MVCD defenders.
THE BLADE/LORI KING
Enlarge | Buy This Image
"It means everything," said Holifield, who scored 20 points. "There's more work to come. This win got it done, but our whole team puts in great effort every day, and this is what we get when we work hard."
With two games to play on its league schedule, Cardinal Stritch (18-1, 12-0) remains perfect in the TAAC, while every other team in the conference has at least three league losses.
While the Cardinals never trailed on Tuesday, the Hawks (15-4, 9-3) applied pressure until the final seconds. Maumee Valley trailed by as many as 17 points midway through the third quarter, but fought to within one with 16.7 seconds to play.
Holifield converted two free throws on the other end, however, and Zeb Jackson's desperation 3-pointer to tie the game missed its mark. Anderson clinched the game with a free throw to push the lead to four with 4.6 seconds remaining.
Despite the significance of the historical significance of the victory, there was no celebration from Cardinal Stritch. With even bigger games on the horizon, Cardinals coach Jamie Kachmarik said his team accomplished only its first goal.
"We're not celebrating until the season's over," Kachmarik said. "We've got more goals to get. It's nice – it's nice to win on the floor – but our first goal was to go undefeated in the league on the road, and we accomplished that.
"That was the feat for tonight."
Anderson led all scorers with 25, while Burton scored 19 for Stirtch.
Jackson led Maumee Valley with 21 points, 14 of which came after halftime.
Cardinal Stritch dealt with Maumee Valley's halfcourt trap in the first half and was able to take a 13-point lead into halftime, which it stretched into 47-30 lead in the third.
Maumee Valley responded with a 12-3 run to end the quarter, then pieced together an 11-2 spurt in the fourth to set up the game's final stretch. The Cardinals were able to ward off the charge at the free-throw line, where they scored 20 of their 24 fourth-quarter points.
While Tuesday was an important step along the way, Cardinal Stritch is hoping for even more in the next month.
"It's not over – we have a lot more games to go," Holifield said. "We'll keep striving. All these games are building up good momentum going into the tournament, so we just have to keep going."
Contact Nicholas Piotrowicz at npiotrowicz@theblade.com, 419-724-6110 or on Twitter @NickPiotrowicz
Guidelines: Please keep your comments smart and civil. Don't attack other readers personally, and keep your language decent. Comments that violate these standards, or our privacy statement or visitor's agreement, are subject to being removed and commenters are subject to being banned. To post comments, you must be a registered user on toledoblade.com. To find out more, please visit the FAQ.