In baseball, if hitting is about timing and pitching is about location, Northview put both of those diamond axioms to full use Friday night in a 5-1 Northern Lakes League victory at Anthony Wayne.
The Wildcats — coming off a school-record 23 wins last season — are right back at this year, moving to 9-2 overall and a first-place 3-0 in the NLL after knocking off the preseason league-favorite Generals (7-2, 2-1).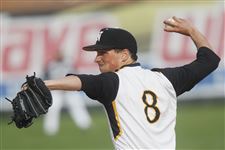 Northview's David Mulligan, shown in a game last season, limited Anthony Wayne to 8 hits in a Northern Lakes League win Friday.
The Blade
Enlarge | Buy This Image
Northview jumped out to a 5-0 lead after two innings — before AW pitcher Brock Nartker could find his groove — and that was enough for fellow senior right-hander David Mulligan scatter eight hits with a masterfully efficient effort on the mound.
"They're very good, so to get an early lead was very nice," Northview coach Greg Szparka said. "If you would've asked me if we would do that, I would've said 'No way.' [Nartker] is very good. He's one of the best pitchers in the league, so to get to him early we were very fortunate. It worked out for us."
Mulligan, who threw 59 of his 80 pitches for strikes in the complete-game victory, simply let his defense do the work behind him. He struck out just two batters and did not walk any.
"It's really easy to throw strikes when you get the lead, especially after we got those five runs in the first two innings," Mulligan said. "I was able to use my stuff pretty well. I used my fastball and hit the corners. I knew my defense would do the work behind me, and it worked to my advantage."
Meanwhile, Nartker was the victim of a bad break in the first inning, and Northview took advantage to grab a 2-0 lead.
The Wildcats then kept the heat on in the second inning, before Nartker could find his rhythm, and used three hits to add their final three runs.
Nartker retired 14 of the next 16 hitters he faced before exiting after six innings, but the damage was already done.
He had struck out Connor McCann to start the game, then fanned Cole Kwiatkowski for what would've made it two outs with the bases empty. But the third-strike pitch was in the dirt, trickled away behind AW catcher Brady Theis, and Kwiatkowski raced to first safely.
Jarrett Batanian and Ben Boyers followed with singles to load the bases, and two runs scored when Christian McKimmy's grounder toward second base went through the legs of Generals shortsop Andrew Murphy.
With one out in the second, Brett Hagan drew a walk, advanced on a wild pitch, and scored on a single by Nick Holtfretter.
McCann followed with a double, and Kwiatkowski's two-run triple to right staked Mulligan and the Wildcats to a 5-0 lead. Kwiatkowski was 2 for 4 at the plate.
Anthony Wayne's only run off of the crafty Mulligan came in the third inning on Steve Haugh's sacrifice fly that scored Nick Schneider. The Generals, who had four singles in that inning, left the bases loaded when Mulligan retired Murphy on a fly to right.
"I love to throw strikes and get ahead in the counts," Mulligan said. "It makes me feel much more comfortable. I know I can be around the zone so often because I have such a good defense behind me, and such a good lineup at the plate.
Another potential AW rally was muted when Haugh sharply lined into a double play after Schneider and Connor Judy had singled to open the fifth inning.
"We made a couple mistakes early, and they capitalized," AW coach Mark Nell said. "We were very passive with the bats early, taking a lot of pitches. I told the team, 'You're going to face a kid who throws a lot of strikes.'
"He's a good high school pitcher. He's not going to be overpowering, but he's going to make you put the ball in play. He's a 70-percent strike guy, and in high school baseball that's pretty daggone good. The bottom line is, they capitalized on some mistakes we made, and they made some great plays in the field. Their second baseman made some outstanding plays. They beat us."
Nartker, who threw 61 of his 100 pitches for strikes, fanned eight Northview batters. He yielded six hits and two walks in six innings.
Contact Steve Junga at sjunga@theblade.com, 419-724-6461, or on Twitter @JungaBlade.
Guidelines: Please keep your comments smart and civil. Don't attack other readers personally, and keep your language decent. Comments that violate these standards, or our privacy statement or visitor's agreement, are subject to being removed and commenters are subject to being banned. To post comments, you must be a registered user on toledoblade.com. To find out more, please visit the FAQ.