The senior pitcher/infielder led the Cougars with 18 runs batted in and posted a .351 batting average. Leonard also scored 12 runs and had four stolen bases.
On the mound, Leonard went 2-3 with a 2.31 earned-run average. He struck out 24 batters in 39⅓ innings of work after earning second-team All-Northern Lakes League honors as a pitcher last year.
"He's a good kid and a great teammate," Southview coach Brett Baumgartner said. "He's a heck of a ballplayer and an even greater person."
Baumgartner said 13 of Leonard's 18 RBIs came with two outs.
"He's our best hitter. He's definitely a clutch hitter," Baumgartner said.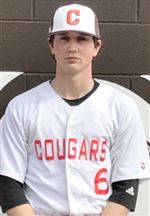 C.J. Leonard
As a junior, Leonard batted .333 and posted a 6-1 record with a 1.64 ERA.
"He loves baseball and everything about Southview," Baumgartner said.
Leonard was selected team captain this season.
"He did a great job in that role," Baumgartner said. "His work ethic is unreal. He will run in the outfield after games. He fell in love with the process. He tops the list in getting after it."
Leonard singled and scored for Southview (13-13, 6-7 NLL) in a 3-2 loss to St. John's Jesuit in the Division I district semifinals on Wednesday.
He also plays on the Southview golf team.
Leonard excels in the classroom with a 3.70 grade-point average. Leonard is planning to attend Ohio State University but may also continue his baseball career at the next level.
"He's very respected and comes from a great family," Baumgartner said. "He's one of those kids that you know will go on to do big things in life."
Guidelines: Please keep your comments smart and civil. Don't attack other readers personally, and keep your language decent. Comments that violate these standards, or our privacy statement or visitor's agreement, are subject to being removed and commenters are subject to being banned. To post comments, you must be a registered user on toledoblade.com. To find out more, please visit the FAQ.