Quarterback guru Bill Reagan is putting a call out to all young quarterbacks in the area.
Reagan, a former longtime college football coach, will bring his Top Gun Quarterback Training camp to Toledo in July.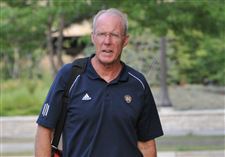 Former Notre Dame, Bowsher, and Libbey assistant coach Bill Reagan will be bringing his quarterback camp to Toledo in July.
Michael & Susan Bennett Enlarge
The former University of Notre Dame staff member aims to pass on an appreciation for the fundamentals of the preeminent position in the game.
"I want to help them move up to the next level, but it all begins with solid fundamentals and an appreciation for the basics," Reagan said. "My hope for them is that they develop an appreciation for learning and that they can get better based on learning the right techniques."
The camps, which are three days long, are comprehensive and concise. The camp in Toledo will be July 16-18 at St. John's Jesuit High School.
Reagan said his camp is limited to just 20 participants in order to emphasize individual training. The camp targets novice and experienced quarterbacks. There are 12 spots open for young prospects in grades five through eight, and eight spots for those in high school.
"It doesn't matter to me what level they are at as long as I can take them to another level," Reagan said.
Reagan began his coaching career in Toledo. He was on the staffs at Bowsher and Libbey high schools in the early 1970s.
"I was very blessed in my career to have opportunities to be on coaching staffs there," he said. "It's always nice to come back."
Reagan, who grew up in Lorain, Ohio, later became the head coach at his alma mater for 10 years. He then served as the offensive coordinator at Ashland University before embarking on a 15-year career at Notre Dame, where he held various positions.
Reagan started the Top Gun organization, based in Indiana, in 2003 and expanded to a full-time operation two years ago after retiring from Notre Dame.
"I played Division II at St. Joseph and had a hall of fame career there. But when I started coaching I found out all the things I had done were wrong," Reagan said. "I could have been so much better if I had done things the right way. If I had learned the proper fundamentals, maybe I could have had a shot in the NFL."
So Reagan made it his priority to instill the basic principles to as many young proteges as possible.
"Things are correctable. If a kid already throws a certain way, they can change," he said. "You can always try to get better."
Reagan said his system is comprehensive yet easy to understand. The camp emphasizes footwork, passing mechanics, pocket presence, accuracy training, passing on the run, decision making, and ball handling.
He said the first step is establishing a base or platform so the feet are set in a position to throw well. The second is maintaining balance in those positions. The third aspect is the mechanics of loading the ball properly in the hand.
Reagan said the camp does not focus on any particularly offensive scheme or system.
"This skill set is equally adaptable and critical to any of today's various offensive schemes. We teach them passing skills that can fit any offense," he said. "We are under center more because the footwork is harder. The shotgun is so much easier."
He said some campers benefit more from learning how to protect the football and others improve upon their footwork.
"I try to get more personal preparation with them," he said. "It's just them and me every day. They get more up close and personal than other camps. I hope to entice kids to come for the challenge of it."
Cost of the camp for those in fifth through eighth grade is $185, while the camp for those in grades 9 through 12 is $215. Registration forms and more information can be found at the organization's website, reagantopgunqbtraining.com.
The camps, which take place throughout the country, lasts about 90 minutes each day. Separate workouts are held for the different age groups.
The Top Gun Quarterback Training system produced 42 high school starting quarterbacks in 2017. Reagan also has worked with quarterbacks who are now at top D-I programs such as Notre Dame, Michigan State, Central Michigan, Harvard, Eastern Kentucky, and Butler.
One of Reagan's first Top Gun clients was former NFL quarterback Charlie Frye. Former Notre Dame coach Lou Holtz said he came away impressed after watching Reagan work with the campers.
"I have personally observed Bill Reagan's expertise and attention to detail when coaching quarterbacks," Holtz said. "If you have the opportunity to work with Bill, you should take it."
Reagan also serves as a member of former NFL quarterback Trent Dilfer's renowned Elite 11 coaching staff and has worked on summer quarterback coaching staffs at Notre Dame and Michigan.
One of his top performers at St. Joseph College was former Bowsher running back Rory Johnson, a 1984 graduate who is now in both school's hall of fame.
"It was a great foundation for me in Toledo," Reagan said.
Reagan also offers year-round private sessions with a time and place mutually agreed upon.
"My philosophy is that I want to make sure they come in for three days and I will see improvement from day to day," he said. "I want them to improve their odds of completing one single pass all the way up to the other extreme [of playing in college]."
Contact Mark Monroe at: mmonroe@theblade.com, 419-724-6354, or on Twitter @MonroeBlade.
Guidelines: Please keep your comments smart and civil. Don't attack other readers personally, and keep your language decent. Comments that violate these standards, or our privacy statement or visitor's agreement, are subject to being removed and commenters are subject to being banned. To post comments, you must be a registered user on toledoblade.com. To find out more, please visit the FAQ.