Six Toledo-area soccer clubs win state championships
6/12/2018
Six local soccer teams are headed to regionals as Ohio North State Cup champions.
The Toledo Celtics' Under-18 boys team claimed their second State Cup in three years last week, and the area claimed five girls trophies. Pacesetter Soccer Club's Villa Red teams picked up three titles (U18, U17, and U14), while Greater Toledo Futbol Club Impact's Premier sides took the U10 and U19 championships.
Each team claimed one of 16 spots for its age group at the U.S. Youth Soccer Region II championships, which comprises a geographic area of 13 Midwestern states.
RELATED: World Cup: The best teams, games, players, and who will win it all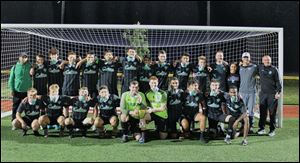 With a 2-1 victory in the Ohio North State Cup final, Toledo Celtics' U18 team advanced to the Midwest regional championships.
A 2016 nationals qualifier, the Celtics are after another run after a nightmarish extra-time loss in the 2017 State Cup final. The Celtics earned their redemption by outscoring their competition 43-5 in five State Cup games, including a 2-1 victory in the final. In the run to last week's win, the team always kept the 2017 loss in mind.
"We understood that it was an upset and it happened, but letting it happen stayed in the back of our minds. It just sat there and made us train harder and be harder on each other," defender Spencer Straka said. "It just felt like it was meant to be."
Coach Kirk Brazeau has missed significant time this season as his infant son, Archer, battles a rare skin disease that requires 24-hour care and constant medical attention. Now 17-1-3 overall, the team wears Archer's initials on its jerseys.
"They used it to galvanize themselves, and it's honestly one of the best gifts I could receive," Brazeau said. "Surreal doesn't do it justice. It was like a movie plot."
Pacesetter's three State Cups all came in different fashions. Its U14 (6-3-3 league play) side is one executive director of coaching Danny Fisher said "is a group that we really think is going to do big things," after winning its final 3-1.
The U17 team (6-4-1) faced a tougher road than last season, but ultimately repeated as champions with a 1-0 victory in the tourney final.
"It takes a lot to do that, not just physically, technically, and tactically, but mentally as well," Fisher said. "I felt this year it was a lot tougher for them, especially in the final."
Like the Celtics, Pacesetter's U18 girls (11-1) turned a 2017 State Cup disappointment into a title this year, winning the final easily, 4-0. For a group that has been with the club for a decade in some cases, Fisher it was a satisfying result.
"Some of those players have been with us for nine or 10 years, and they've been after a State Cup for nine or ten years," Fisher said. "It was really pleasing for them to win it in the end."
GTFC Impact Premier teams won the State Cup at the youngest and oldest levels. The U19s concluded their tenure with a championship, while the U-10s won in their first try with a 5-1 victory in the final.
Mike Aubry, GTFC Impact's coaching director, said the State Cup showing was a boon to the club, and to Toledo soccer in general.
"The depth of players that have quality has definitely improved to the point where multiple clubs can go and have success," Aubry said. "Soccer is bright Toledo."
Group play in the Region II championships begins June 22 in Westfield, Ind., a suburb of Indianapolis.
Contact Nicholas Piotrowicz at: npiotrowicz@theblade.com, 419-724-6110, or on Twitter @NickPiotrowicz.